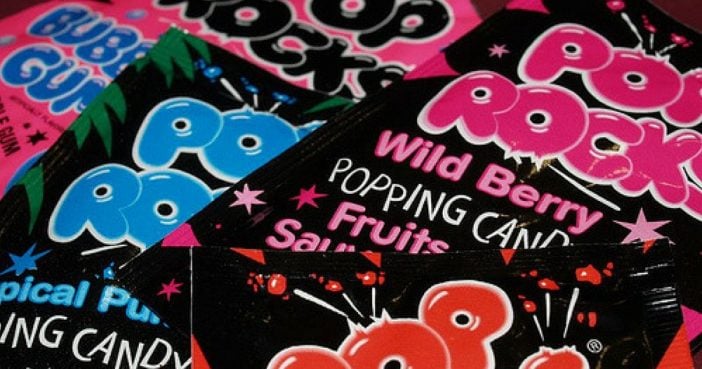 We all have tried Pop Rocks as kids, right? At least a good portion of us have. We loved that magical pop that happened in our mouths after we poured some of the sweet crystal rocks onto our tongues. That's until that infamous story went around about how you could die from mixing pop rocks with soda (which by the way, turned out to be an urban legend, that scared the living daylights out of parents and kids), Pop Rocks was one of the most popular candies.
The rumor was that Little Mikey of LIFE cereal fame died from the explosive effects of mixing Pop Rocks candy with soda pop.
FYI… Mikey from Life cereal is still alive! 
According to Snopes.com, "a kid ate 6 bags of pop rocks at a party. He then proceeded to drink a 6-pack of Pepsi. The two substances combined in his stomach and exploded, killing him horribly. That's why pop rocks were taken off the market in the early eighties."
It wasn't necessarily the taste of them but the sensation this sparkling candy brought to my mouth. The sound and feeling of the rocks as they popped away was so cool.
When I was at camp, Pop Rocks were the first candy on my care package list. I hoped I would get the most of any of my fellow bunkmates. It was like a popularity contest! I would put extra hearts and stars next to Pop Rocks, Nip-L-Nips, Fun Dip and the cute Dots candy strips. Yes, those were my favorites.
So, I like many others, have probably wondered how Pop Rocks worked. I started reading some articles and this is one I found behind the science of this popular candy, is pretty interesting…
And, here are some cool facts about the effervescent candy…
What was that one candy you used to ride your bike to the local candy store for? Share some of your memories in the comment section below…