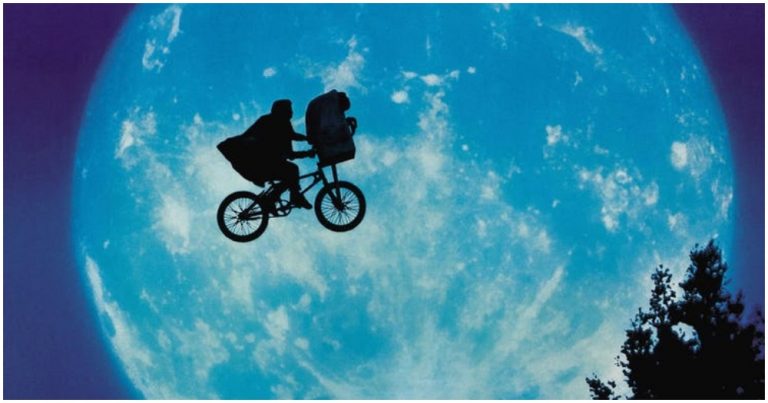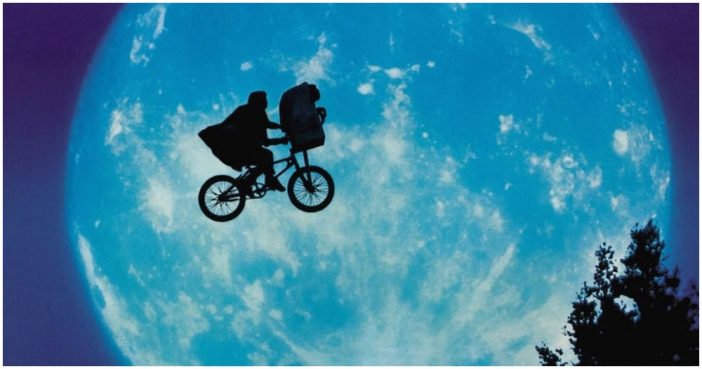 5. IT INSPIRED A HIT SONG FROM NEIL DIAMOND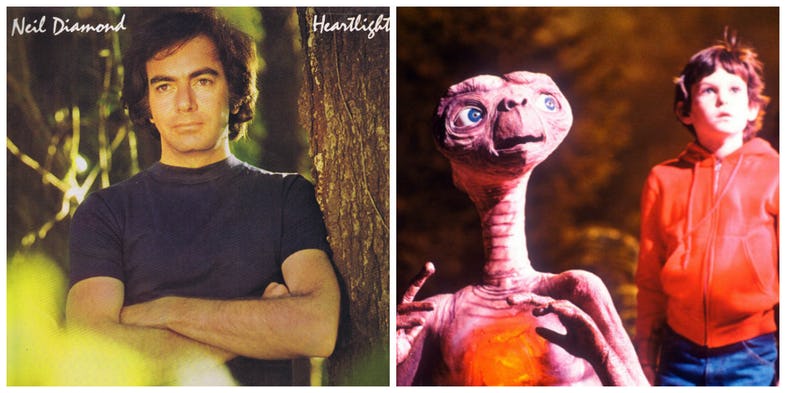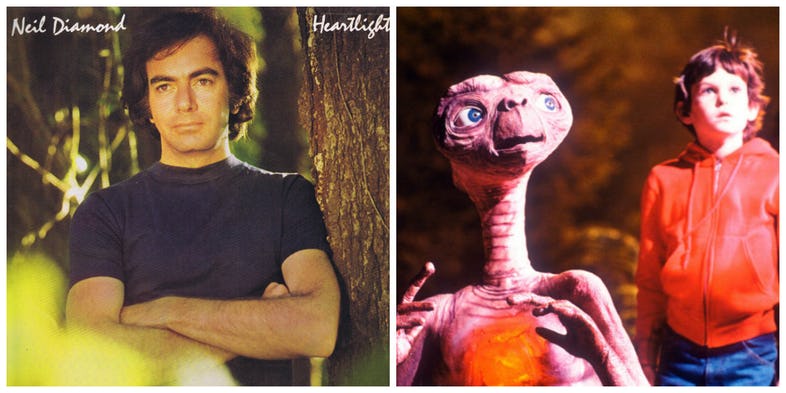 Neil Diamond has been a popular singer for decades. In the early 1980s, he was still routinely logging hits on the pop charts. He had an especially big one in 1982, called "Heartlight." The song's life began when Diamond went to see E.T. with his friends Carole Bayer-Sager and Burt Bacharach, two of the most legendary songwriters in the history of pop music. All three of them were deeply touched by the movie, and that got the inspiration flowing. Together, they wrote "Heartlight," which got its name from the way E.T.'s heart glows red as he prepares to bid Elliott goodbye before leaving Earth.
America responded warmly to the song, whose lyrics include obvious references like "Turn on your heartlight/In the middle of a young boy's dream/Don't wake me up too soon/Gonna take a ride across the moon." (The writers had to pay Universal a fee for the right to refer to specific elements from the film.) "Heartlight" reached #5 on the Billboard Hot 100 chart, while ascending all the way to #1 on the Adult Contemporary chart. It ranked as one of the biggest hits of Neil Diamond's already illustrious career.
6. THERE WAS A PRINT SEQUEL ABOUT E.T. ON HIS HOME PLANET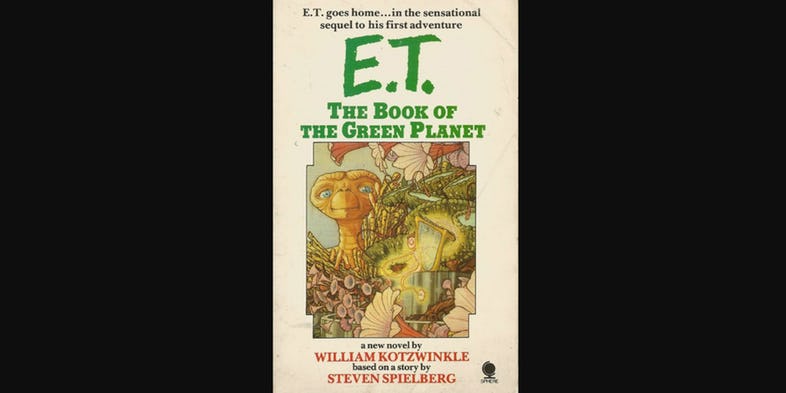 While Spielberg may have scrapped his plans for a cinematic sequel, there is one that exists in another format. It came courtesy of author William Kotzwinkle. The Scranton, Pennsylvania native, World Fantasy Award winner, and eventual A Nightmare on Elm Street 4: The Dream Master story writer had been entrusted to write the official novelization of E.T., a book that sold quite well. This put him in a position to continue carrying on the character's legacy in print.
Kotzwinkle wrote a follow-up book that was published in 1985. E.T.: The Book of the Green Planetfinds the alien returning to his home world, where he is punished for getting left behind on Earth. The planet's inhabitants are happy gardeners, growing all kinds of plant life in their massive gardens. E.T. is most interested in something else that's growing: Elliott. He monitors his friend from light years away, as he hits adolescence, takes an interest in girls, and starts to forget the lessons of peace that he learned from his extra-terrestrial pal. Afraid of what he's seeing, E.T. tries to find a way to return to Earth once more. Nothing could ever match the sheer power of the movie, but Kotzwinkle did take the clever step of telling the story from E.T.'s point of view, making The Book of the Green Planet a rather intriguing print sequel.
7. SPIELBERG ABANDONED HIS PLANS FOR A SEQUEL
Given that it broke box office records, it may seem a bit surprising that there was never a sequel to E.T. Spielberg claimed that, for years, one of the questions he was most frequently asked was when he would make a follow-up to his biggest hit. There was great pressure from inside the industry, as well. Universal, suspecting that there was a lot more money to be made from the property, also pushed for a second installment.
The truth is that, for a while, the director strongly considered capitulating to the overwhelming demand. Spielberg worked with Mathison to come up with a treatment for a sequel that would have been called E.T. II: Nocturnal Fears. They devised a story in which Elliott and his friends are abducted by malevolent aliens and need to find a way to contact E.T. so that he can save them. In some ways, it was a reversal of the original, which found E.T. under threat and Elliott working to aid his escape. The director eventually decided (wisely) that any kind of sequel would just detract from the impact and unique magic of the movie so many people had fallen so deeply in love with, and he abandoned these plans.
8. IT PLAYED IN THEATERS FOR A FULL YEAR
E.T. opened in 1,103 theaters on June 11, 1982 to an $11.8 million weekend. From there, it did something that almost never happens: it increased its take on several consecutive weekends. (These days, movies often drop by more than 50% in their second frames.) That signified two things: phenomenal word-of-mouth, and people going back for repeat viewings. The movie stayed at or near the top of the box office charts all summer long. But that was far from the end of things. E.T.'s initial theatrical run ended a year later, in June of 1983. You read that right – the movie played for 52 straight weeks, winding up with a total North American box office take of over $350 million. That would be more than a billion dollars in today's terms.
Because of its immense popularity, E.T. was re-released to cinemas not once, but twice. Both times, people flocked to see it again. The first time was in July of 1985 when, according to the website Box Office Mojo, it ran for five weeks and made another $40 million. A 20th anniversary re-release came in 2002. This time, the film played for two full months and earned an additional $35 million.