"I think that from the very beginning…what made Playboy so popular was not simply the naked ladies, there were naked ladies in other magazines," Hefner explained in an interview. "What made the magazine so popular was, even before I started writing the philosophy, there was a point of view in the magazine…Prior to that, you couldn't run nude pictures without some kind of rationale that they were art. I made them into, I put them into a context of a positive, or what I perceived as a positive attitude, on male-female relationships. I suggested that sex was not the enemy, that violence was the enemy, that nice girl like sex."
Joanna Krupa, who posed for Playboy in 2005 and 2009, told Fox News when the latter issue came out, "There are several great reasons why female celebs line up to shoot Playboy: finally a woman gets paid more than a man for comparable work, she gets to set the rules, gets to be in a real teamwork with other women, as many key positions at Playboy are in fact held by women! She brings in her creative ideas, gets involved in the photo selection and ends up with something she co-created through and through."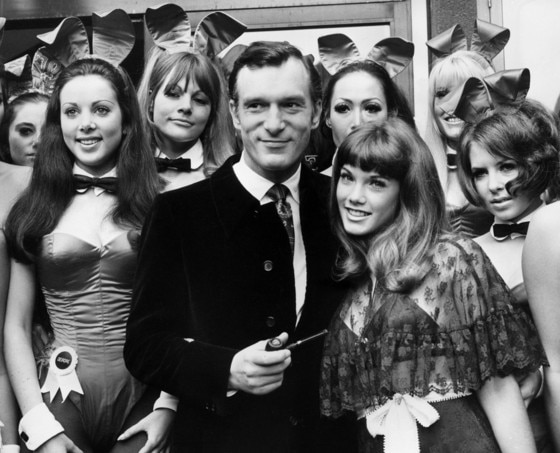 Hefner made good on his image as a ladies' man who spent the majority of his at-home time in silk pajamas and a smoking jacket. He was married from 1949 until 1959 to Mildred Williams, the mother of his daughter Christie and son David, but remained a bachelor for the next 40 years after they divorced. He, of course, had numerous girlfriends during that time, including a nine-year relationship with singer and model Barbi Benton, during which she appeared on three Playboy covers."I told him I never dated a man over 24," Benton recalled to People in 1980. "He told me he never dated anyone older than that either."
Hefner gave an interview from a rotating bed in 1968 Playboy Enterprises expanded to include, off and on over the years, television, film, resorts, nightclubs, products, a philanthropic arm and, ultimately, a number of websites, the brand always recognizable thanks to its signature logo—the silhouette of the head of a dapper, bow-tie-wearing rabbit.
In 1971, Playboy was selling 7 million copies a month, but the competition had started to arrive in the form of Penthouse, with its "Penthouse Pets," and in 1974 Larry Flynt's Hustler debuted. At first Playboy dabbled in more graphic photos, but eventually returned to its more intellectual, skin-with-a-purpose roots and doubled down on signature features and photo series.
Meanwhile, Hefner moved permanently to his Playboy Mansion in L.A. in 1974 and got involved in local affairs and civic projects, such as the restoration of the Hollywood sign. A minor stroke prompted a reassessment of his lifestyle, to a certain extent. He married longtime girlfriend Kimberley Conrad in 1989 and they had two sons together, Marston and Cooper.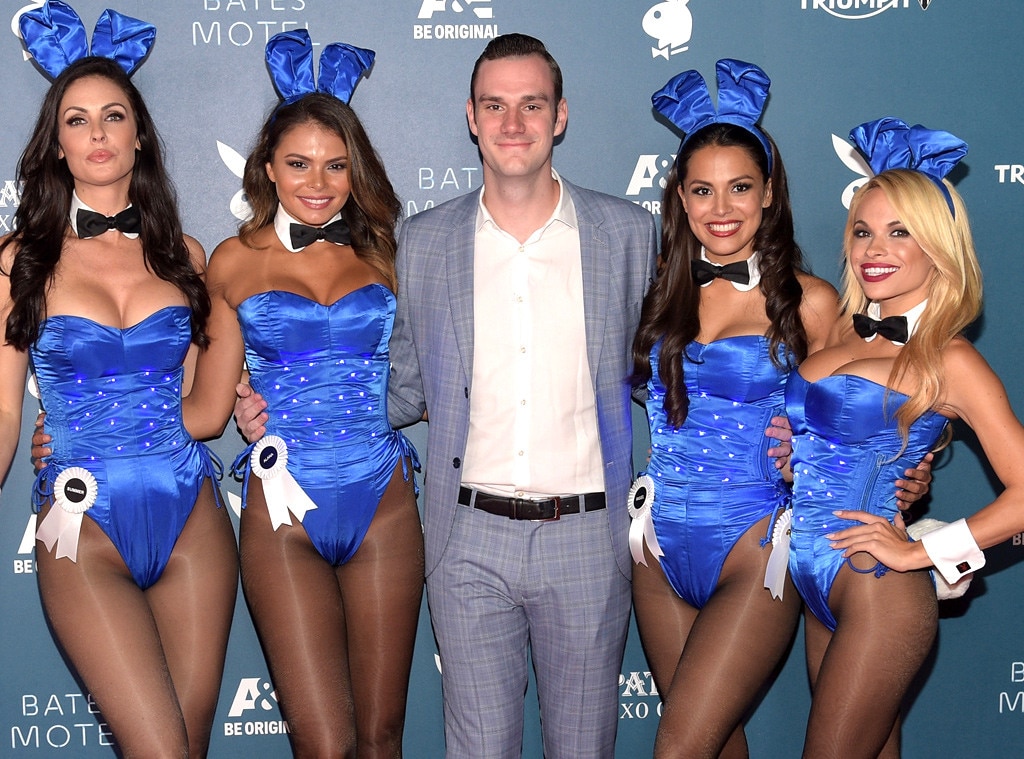 Hef and Kimberley didn't officially divorce until 2010, but they had an open relationship for years—most publicly when Hefner starred from 2005 to 2010 on E!'s The Girls Next Door with resident girlfriends Kendra Wilkinson, Bridget Marquardt and Holly Madison.After calling off their engagement at least once prior, Hefner married Crystal Harris on Dec. 31, 2012. Earlier that year he had said that son Cooper would likely carry on as the public face of Playboy in his stead. A private equity firm put Playboy Enterprises on sale this past April $500 million—not an indicator that Hefner's family would no longer be involved, but rather to shore up the media corporation's finances.