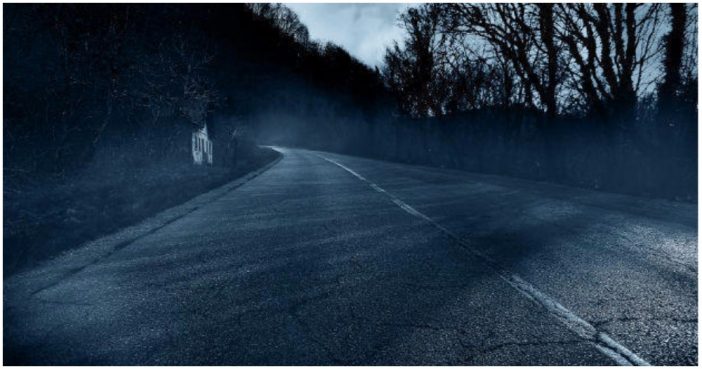 Some people believe places can be haunted, others don't, but many who have traveled the winding road that connects Seaforth to Narrabeen in New South Wales, Australia, say the stretch of road called Wakehurst Parkway is a road they prefer never to travel again. Their own experience tells them that it's a haunted road.
The Mirror reported that many motorists are way too scared to drive down Wakehurst Parkway in New South Wales, Australia.
Strange things happen on this section of road: radios switch off or suddenly ramp up, windscreen wipers suddenly stop working, cars lock and unlock themselves, but even more – people say ghoulish apparitions appear under the cover of darkness.
There have been many unexplained supernatural occurrences on the stretch of road known as Wakehurst Parkway, and drivers say there's a pedestrian crossing at Oxford Falls where the green man flashes repeatedly at 3 a.m. every morning, despite no one pressing the button.
But perhaps even scarier than that are the two ghostly women who appear on the highway at night: one is an older woman, the other younger, and they simply terrify motorists when they appear in people's rear-view mirrors. It's been reported that both women enter cars at the Oxford Falls end of the road and terrify drivers in the rear-view mirror.
Local legend has it that the elder of the two women is a Scottish nun who died on Wakehurst Parkway 50 years ago, while the younger woman's name was Kelly, who was killed in tragic circumstances in the 1970s. The story goes that Kelly was a slain hitchhiker who was trapped in the back seat of the vehicle.
Australia's most haunted road: The story of Wakehurst Parkway and the woman in white. https://t.co/wkEnPhgC2T pic.twitter.com/DOfM9Gjemr

— Mamamia (@Mamamia) May 10, 2017
And now comes the really scary part! Mary Loughland is a psychic medium, and she believes that most hauntings happen in places where tragic deaths have occurred. She says she's seen Kelly many times, and that if you don't tell Kelly to leave your vehicle, she'll run you off the road.
"The first time I took the road was about six years ago. It was about 2 A.M. and I had the feeling of someone touching the back of my neck. It felt like a cool hand would on a cold day. She is like a white, veiled apparition of a girl in the back seat. My daughter Ellie used to drive down the road on her way back from work at Chatswood RSL. She has seen Kelly as well as an older woman in her car, who could be the nun."
However, Mary doesn't believe Kelly is an evil presence; she's a traumatized one who's basically just looking for a ride home.
#Sydney road where 'woman in white and a nun haunt … – #Chilling #Ghost #Parkway #S #Stories #The #Wakehurst – https://t.co/russmSuEaX pic.twitter.com/0LMX3swxhp

— WomansBuzz (@WomanSBuzz) May 11, 2017
Twenty-two-year-old Samantha Fisher from Bilgola Plateau says that while her mother, Sherryll, was driving there in 1998, she blacked out without reason.
"She blacked out coming up to a turn, she remembers feeling the accident happening however couldn't move or see, but could hear and feel it. I was three-years-old and I slept through the whole thing: the car went up one of the sides of the rock faces and once at the top the car tipped off the side and smashed down on the road. Mum had a broken back but recovered fully after three months of no movement, and I had no injuries."
In 2015, filmmaker Bianca Biasi decided to make a movie about Wakehurst Parkway, and Bianca said that filming in Deep Creek Reserve was terrifying. This is one particular characteristic of the road that connects Seaforth to Narrabeen, a place believed to have been a murderous spot popular for dumping dead bodies.
"We had a psychic medium with us and she described in detail that someone had been murdered there. All of a sudden the actors started behaving strangely. A couple started throwing up and we considered hospitalizing one because it was so hard to calm her down. Something instinctively told me to get them out of there – it was eerie. I've been to a lot of haunted places and there is something very eerie about that place."