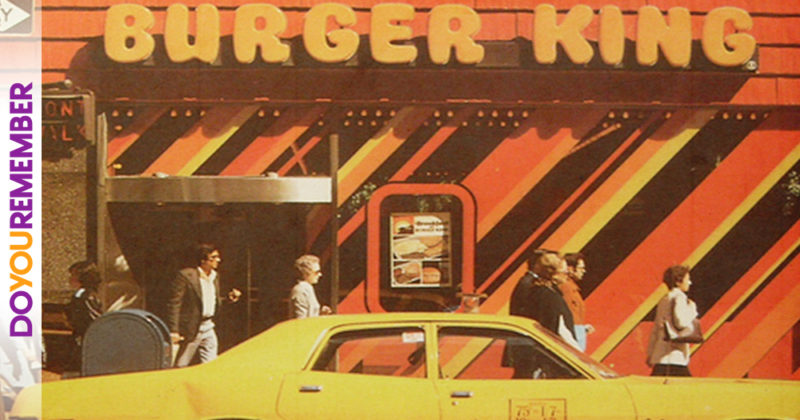 In December of 1954, the very first Burger King opened its doors in Miami. Inspired by the original McDonald's stand in California, founders James McLamore and David Edgerton—graduates of Cornell University's storied hospitality school—purchased the rights to an Insta-Burger franchise, a concept based on a broiler that provided a consistent uniformity in cooking meat. The duo renamed their establishment Burger King, and the success of the venture led to more than 40 locations within Florida by the end of the decade.
One year after they opened, the owners created the very first physical iteration of the namesake King, a jolly fellow who sat atop a burger and clutched an immense soda in his left paw. This character saw the restaurant through its expansion into franchise success, ultimately leading to the firm's acquisition by Pillsbury in 1967, when there were 274 Burger Kings across the United States. (By contrast, McDonald's was closing in on 1,000 stores at the time.) BK gained an immense jump, however, in the early '70s with its famous "Have It Your Way" campaign, created by the advertising behemoth BBDO, which compared its openness to customer preference with the perceived rigidity of the McDonald's menu. Another sensation was the chain's 1977 cross-promotion with the original Star Wars film, when Burger King offered a set of glassware featuring Luke, Leia, Han and other characters from the smash hit.
Have It Your Way!
By the early '80s, the so-called Burger Wars were in full swing: In a series of ads featuring a four-year-old Sarah Michelle Gellar, BK named McDonald's by name in an unprecedented burger comparison, claiming their patties were 20 percent larger than those sold under the Golden Arches. McDonald's sued, and the suit was later settled for an undisclosed amount.
https://youtu.be/DEUDwE1RW7I
In the 2000s, after a number of lackluster marketing attempts, Burger King hired the red-hot firm Crispin Porter + Bogusky to give the firm a millennial hipster spin. And that they did, with memorable campaigns such as the Subservient Chicken, which allowed users to virtually control a man dressed in a poultry suit, and the Creepy King, a new version of the classic character played by an actor in an oversized plastic mask.
Today, Burger King has more than 13,000 stores in 79 countries, 99 percent of which are operated by franchise owners. Though the company is currently in third place behind McDonald's and Wendy's, Whopper fans still line up to have it their way throughout the globe.