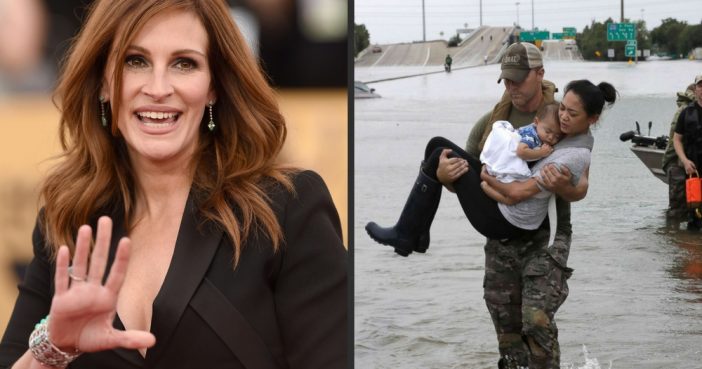 TODAY's Dylan Dreyer was in Texas when Hurricane Harvey made landfall last weekend. She saw the devastation that was created — but also witnessed the immeasurable kindness of strangers and neighbors who came together under the worst of circumstances.
NOW, Hollywood's most beloved A-listers will bring big-time star power to a televised benefit raising money for the victims of Hurricane Harvey next week.
Oprah Winfrey, George Clooney, Julia Roberts and Beyoncé will appear on "Hand in Hand: A Benefit for Hurricane Harvey Relief," airing live Sept. 12 at 8 p.m. ET on NBC, ABC, CBS, CMT and Fox, Entertainment Weekly reports. (The show will stream live on Facebook, YouTube, and Twitter.)
The star-studded extravaganza will also feature "appearances, performances, taped tributes and messages" from Reese Witherspoon, Barbra Streisand, Blake Shelton, Justin Bieber, Robert De Niro, Rob Lowe, Jamie Foxx, Matthew McConaughey, Drake, Adam Sandler, Ryan Seacrest, Black Eyed Peas, Karlie Kloss, Michael Strahan, Kelly Rowland, Norah O'Donnell and TODAY's own Matt Lauer.
Click NEXT to read and see more…