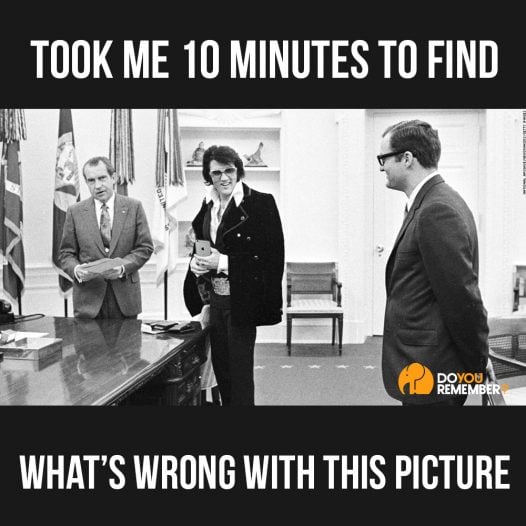 On December 21, 1970, Elvis Presley paid a visit to President Richard M. Nixon at the White House in Washington, D.C. The meeting was initiated by Presley, who wrote Nixon a six-page letter requesting a visit with the President and suggesting that he be made a "Federal Agent-at-Large" in the Bureau of Narcotics and Dangerous Drugs. The events leading up to and after the meeting are detailed in the documentation and photographs included here, which include Presley's handwritten letter, memoranda from Nixon staff and aides, and the thank-you note from Nixon for the gifts (including a Colt 45 pistol and family photos) that Presley brought with him to the Oval Office.
These materials chronicling the Presley-Nixon meeting were obtained from the Nixon Presidential Materials Project at the National Archives at College Park (College Park, Maryland).
Can you see what's wrong with the picture?