The authorized biopic will star Cate Blanchett as Ball with a script written by Oscar-winner Aaron Sorkin. We can also confirm that Amazon Studios has picked up the rights to the film, which will be called Luci and Desi and will focus on the actress' 20-year marriage to Desi Arnaz.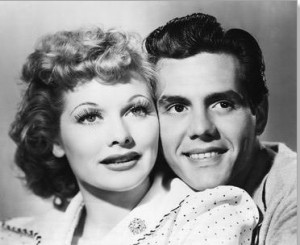 The couple's children, Lucie Arnaz and Desi Arnaz Jr., will produce the film alongside Escape Artists' Todd Black, Jason Blumenthal and Steve Tisch.
The film is set to explore the tumultuous business and romantic relationship between Ball and Arnaz, who married in 1940 before coming together to create the massively successful I Love Lucy sitcom through their production company Desilu, which launched other popular shows like Family Affair, Star Trek and more. The famous couple eventually split up in 1960.
Meanwhile, news of Sorkin penning the script originally got the Twitter-verse talking in 2015.
To find out more about the film, click "Next."