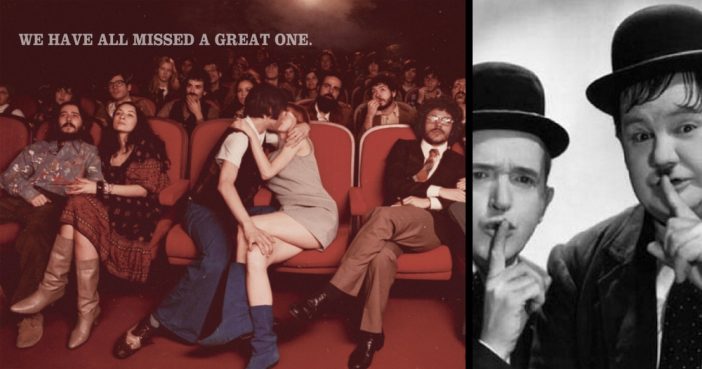 6. CELEBRITIES OCCASIONALLY TURN OUT TO SEE THEIR OWN MOVIES
ScreenRant
Actors work really hard making movies, so naturally, they have great curiosity about how audiences will react to their efforts. If you live in a major city, particularly New York or Los Angeles, you might be lucky enough to catch one of them sneaking into their own movies to gauge the response. A surprise appearance is also a gift to the fans.
Will Smith has acknowledged in interviews that he sometimes does this. Gal Godot and Chris Pine recently crashed an NYC screening of Wonder Woman. Josh Gad did the same thing for Beauty and the Beast, as did Brad Pitt for World War Z and Ryan Reynolds for Deadpool. Channing Tatum took things a step further, disguising himself before treating a theater full of Magic Mike XXL fans to an impromptu dance. Keep your eyes peeled. You might spot one of your favorite stars when you check out their new film.
5. PATRONS ARE FINDING NEW WAYS OF SMUGGLING IN FOOD
ScreenRant
It's a time-honored tradition to sneak food and drink into movie theaters. Maybe you've got a tight budget and can't afford concession stand snacks, or maybe the theater simply doesn't offer what you're hungry or thirsty for. Smuggling in snacks requires a certain amount of creativity, so as not to get caught. A recent viral video shows a couple loading up an empty baby car seat with food, which they effortlessly carry into the cinema. Another young woman crammed a veritable grocery store into an oversized handbag.
As for what people are slipping in, fast food items are popular, and that includes some brave souls who somehow get entire pizzas past the ticket-taker. A group of girlfriends used social media to document how they brought in watermelons by slipping them under their shirts and pretending to be pregnant. And let's not forget about an incident this summer that got some media attention, in which a woman put spaghetti into Ziplock bags to munch on during a movie.
4. 3D IS MAKING SOME VIEWERS PHYSICALLY ILL
ScreenRant
The 3D phenomenon hit a fever pitch right after the release of James Cameron's Avatar. There have been a few really notable must-see-in-3D hits since then, but the format has steadily waned in popularity overall. Certainly, some of that is attributable to the higher ticket price for 3D movies. Having to wear those glasses the entire time is also part of it.
There's also the little fact that 3D makes some people physically ill. That's because not everyone's system can handle the effect. According to researchers, when watching something in 3D, your eyes send a message to your brain suggesting that your body is moving. However, the inner ear, which contains fluid that senses motion, is reporting the exact opposite, because you are, in fact, seated. The result, for those who are sensitive to this particular mixed message, is a sensation of nausea. If you're at a 3D film, you may notice that some of the folks around you are getting a little queasy from the experience for this very reason.
See these NEXT final secrets…