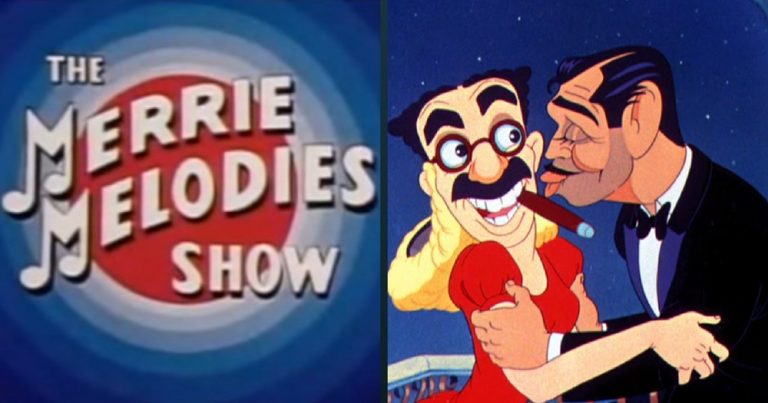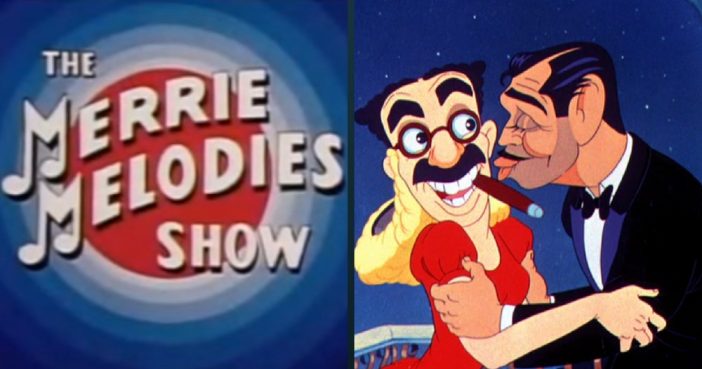 Tough guys, James Cagney, Humphrey Bogart and George Raft, are hatching a plan together, which turns out to be pitching pennies. Raft's coin flipping is a reference to his character, Guino, in Scarface.
Harpo Marx pranks Greta Garbo by sticking matches under her feet and lighting them. She reacts slowly with a reserved and drawn out, "Ouch." I don't quite understand the unflattering caricature she is given in this short. It could be due to her reclusive nature and refusal to sign autographs, give interviews or appear at Oscar ceremonies, even when she was nominated.
Bing Crosby comes out to introduce the first musical number, and is interrupted by a jockey on a horse in reference to Crosby's penchant for horse racing. The conductor comes out and begins to conduct a conga song while moving his hips to the beat.
Dorothy Lamour feels that conga rhythm and begs Jimmy Stewart to dance with her, but when he sees her booty bumping from behind, he freaks out and takes off, leaving a sign on the table with the title of his 1939 film, Mr. Smith Goes to Washington. Dorothy was known best for the Road to… series of films she made with Bing Crosby and Bob Hope.
Meanwhile, handsome Clark Gable is dancing the conga as he pursues a hot blonde.
Tyrone Power dances with Sonja Henie, who was known for her roles in ice skating movies. Tyrone became known for his role as Zorro in The Mark of Zorro.
Even Frankenstein can't help himself from digging that crazy, conga beat.
What three famous comedians show up next in the episode? Click "Next" to find out!