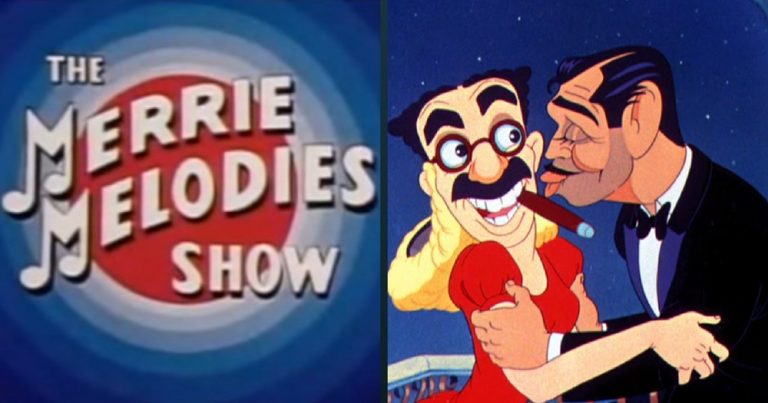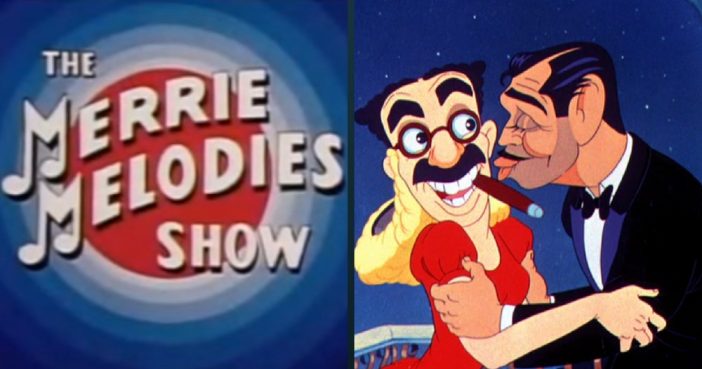 These cartoons had beautiful, vibrant color and far more gun suicides, drinking, smoking and racial and ethnic caricatures than I recalled. I discovered that what I had always thought of as my Saturday morning childhood routine had once been the added attraction at the movie theater in the 1930s through 1960s, and were initially intended for adult viewing.
Let's take a look at all of the celebrities who make appearances in this classic episode.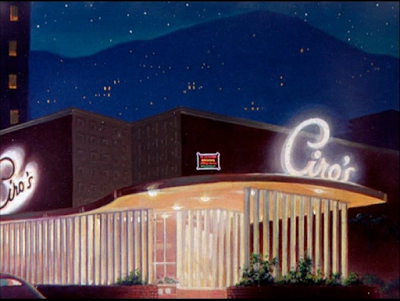 The cartoon begins high above the city with searchlights strobing to a conga beat and zooms in on Ciro's, which opened on the Sunset Strip as a celebrities only club in 1940.
The sign above Ciro's lets us know that this is not a place for family dining. Using this inflation calculator, we can determine the present day value of dinner at Ciro's to be $844.73. That's got to be quite a De Luxe Dinner meal!
As we enter the nightclub, we see Claudette Colbert seated at a table with Don Ameche. Colbert won an Academy Award for the popular 1934 film, It Happened One Night. Ameche was well known for playing the title role in the 1939 film, The Story of Alexander Graham Bell, so much so that the telephone was often referred to as the "Ameche" in the 1930s and '40s.
We get a brief glimpse of Adolphe Menjou sitting with Norma Shearer at the table behind, both of whom had careers that began in silent films. Cary Grant is seated alone and making comments that reference some of his films. Greta Garbo comes along to sell him cigarettes and lifts her oversized foot to the table to strike a match on her shoe to light his cigarette. Garbo had normal sized feet, though it was believed the rumor that her feet were large began when a Broadway columnist ridiculed her feet and gait in retribution for not granting him an interview.
Edward G. Robinson asks Ann Sheridan, "How's the Oomph Girl tonight," and she responds by repeatedly saying, "Oomph!" Ann was a popular pinup girl in the 1940s.
The Merrie Melodies theme plays as the camera tracks past Henry Binder, assistant to Leon Schlesinger, the producer of Looney Tunes cartoons, who is seated on the right.
Johnny Weismuller, whose Tarzan is best known out of all others, checks his overcoat with Paulette Goddard, acting as a hatcheck girl. Afterward, we see hands belonging to Sally Rand handing Paulette her feather fans. Sally performed her well-known fan dance in the 1934 film, Bolero. She was also known for her balloon bubble dance, which we'll get to see later in the show.
Click "Next" to see what other stars were featured in this famous cartoon short.