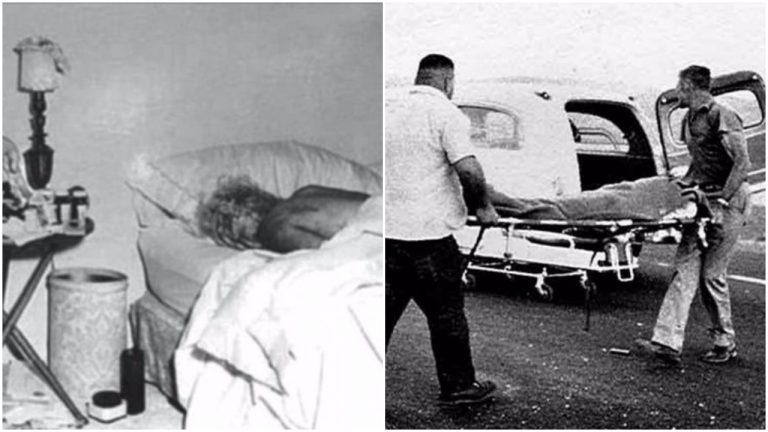 The life of celebrities is charmed: fast cars, designer closets, and no spending limits. There are blogs, magazines, and television shows all dedicated to following the lives of the rich and famous. Some photographers, otherwise known as paparazzi, spend their days following celebs, all in hopes of getting the perfect pic. As we look on with fascination, it can be hard to remember that they too are simply mortal. What happens when fame becomes grim and that very same fascination with their life turns into a fascination for their death? In this list we will dive into the 11 most scandalous celebrity fatalities, blood and motive included. Some were murdered, others tried for murder, and others only became a celebrity after their untimely death, but one thing they all have in common is the photos that captured their rare moments of mortality.
Warning: This article is not for the faint of heart, the pictures might be disturbing to some viewers. The following includes crime scene photos of some of the most intense crime scenes to ever happen involving Hollywood starlets… Here are the 11 most chilling crime scene photos of celebrities
1. Marvin Gaye: A Music Legend Killed By His Father
Marvin Gaye was a much loved if drug-haunted musician and helped shape the Motown music scene in the 60s to the extent that he was often called The Prince of Motown or the Prince of Soul. As soulful as his songs were, his life remained in turmoil. Despite the fame and the fortune, the money, and the accolades, Marvin's family life was not peaceful at all. He and his father had a difficult relationship, primarily because of their hotheadedness and the fact that Marvin Gaye Sr. wasn't great husband material to the singer's mother. Even then, Marvin had bought a big house where the family resided but the son and father fought so much that Marvin's sisters moved out, in search of peace.
Things finally came to head one day when Marvin physically assaulted his father over his father's bad behavior with Marvin's mother. In a rage and apparently "in fear for his life," Marvin Sr. took the gun his son had gifted to him and shot the musician twice – ending the music forever. Marvin Gaye died a day short of his 44th birthday in 1984. The crime scene photos show his body being carried away and his father in court for the trial.
2. Sharon Tate: Brutally Murdered While She Was Eight Months Pregnant
Sharon Tate's murder, along with the murder of four other people she was with in the home she shared with her husband Roman Polanski, shook the world with its brutality. Sharon was eight and half months pregnant with her and Polanski's first child, and basically on top of the world in her personal and professional life.
On August 9, 1969, members of the Manson family stormed into the Polanski residence and murdered everybody they could find, reserving special brutality for the pregnant Sharon. Her murderers later stated that Sharon had begged for her child's life, pleading with them to spare her just so she could give birth to her son and then they could come back and kill her – but to the Manson crazies, it fell on deaf ears. Sharon was murdered in front of a sofa and the room resembled a war zone with blood splatters and bits of flesh everywhere as is evident in the crime scene photos. Sharon had been stabbed a total of 16 times and out of these, five stab wounds were fatal in themselves. The murders were carried out at the command of Charles Manson, his "instructor" Tex Watson, and three women who had no regard for Sharon's advanced state of pregnancy.