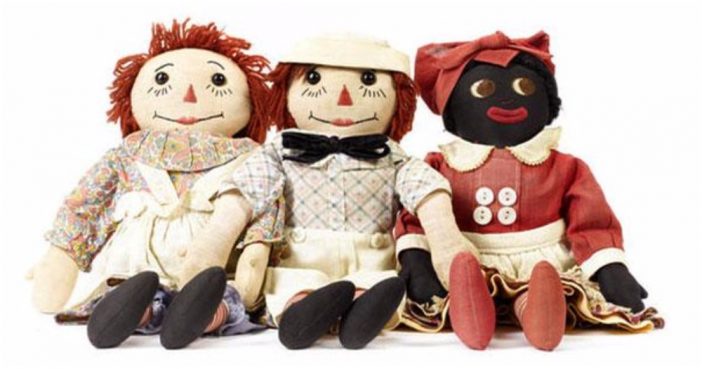 Her face is recognized the world over, a simple doll full of wholesome charm that has stood the test of time. She goes by the name of Raggedy Ann and, alongside her brother Andy, she has endeared herself to millions of children during her hundred years of existence.
The story of Raggedy Ann is rather unique for a toy – imagined not in a company's R&D department, but by a little girl in an attic. Legend says that little Marcella Gruelle found an old doll in her grandmother's attic, soiled and without a face.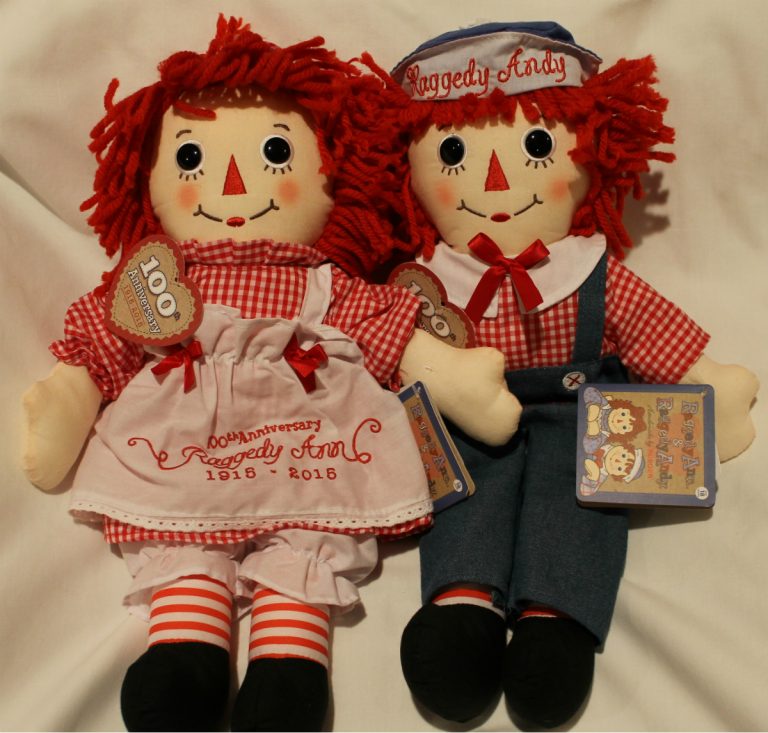 Her father Johnny was a political cartoonist and a freelance illustrator for other writers' cartoon strips and he picked up his pen and drew a face on the doll. Marcella's grandmother sewed on button eyes.
Her father came up with a name for the doll by drawing from James Whitcomb Riley's poetry and made up the doll's name from two poems: "The Raggedy Man" and "Little Orphan Annie."
Raggedy Ann & Andy Vintage Dolls
Marcella unfortunately died shortly afterwards from infected smallpox vaccination when she was thirteen. Distraught by the tragedy, Gruelle started to concentrate his work on a series of Raggedy Ann stories – stories he had told to his daughter before her death.
Gruelle published his Raggedy Ann Stories in 1918, and named the little girl in the books Marcella after his late daughter. Gruelle believed that children's books "should contain nothing to cause fright, suggest fear, glorify mischief, excuse malice or condone cruelty."
Remember the Knickerbocker Commercials
Raggedy Ann, with her candy heart, became a doll spokesperson for kindness, trust, and morality. She was joined later by her brother Andy, Beloved Belindy, Camel with the Wrinkled Knees, Quacky Doodles and Danny Doodles, who were all just as cheerful and sweet.
There's some dispute as to whether Gruelle actually developed the Raggedy Ann doll to accompany the book's release, or just holds onto the patent (as his family still does today). Either way, the first toy company to produce the dolls was P.F. Volland Exposition Doll and Toy Manufacturing in 1935, followed by Knickerbocker. Today, Simon and Schuster retain Raggedy Ann and Andy literary rights, and Hasbro-Playskool and Applause Toy Company hold the master license to the characters for merchandise. In 2012, Aurora World acquired the exclusive rights to produce the iconic plush doll (which celebrated its hundredth anniversary in 2015).
Remember Raggedy Ann?
The Knickerbocker dolls were introduced in the 1960's and were dressed in old-fashioned gingham and calico fabrics, had cloth bodies, red and white striped legs, and an "I love you" message printed over their hearts.
In 1979, The Applause Toy Company, a division of Knickerbocker, created the dolls with embroidered faces, though there was one version with button eyes-just like Marcella's original doll. Inside each doll was a magic peddle for Ann or a wishing stick for Andy, which you could feel when you hugged the dolls tightly. Both items originated in the duo's storybook days.
Ann finally made it to the big screen in 1977, in the animated feature film, Raggedy Ann and Andy: A Musical Adventure. The film was adapted into a Broadway musical in 1986. She also appeared in two Chuck Jones-directed animated television specials – Raggedy Ann and Andy in The Great Santa Claus Caper (1977) and Raggedy Ann and Andy in The Pumpkin Who Couldn't Smile (1978).
And, like any beloved animated character, she finally got a Saturday Morning cartoon in 1988, with The Adventures of Raggedy Ann and Andy, which enjoyed a four-season run.
Raggedy Ann and Andy dolls continue to be huge collector's items and the characters are still charming new generations of children. Their faces can be seen on everything from wallpaper to tea sets to comics to doll house miniatures.
Sure, they may seem a little raggedy to some, but despite the humble beginnings, it's clear that Ann and Andy have done quite well for themselves, all things considered. (Credit)
Related: 
The Weirdest Toys From The 70s
Etch A Sketch? We Could Play With This All Day!
And who was lucky/unlucky enough to have one of these Dangerous Toys from the Past!? Lawn Darts, yep.
For more of these throwback videos, check out our YouTube Channel!