The sight of a Stuckey's brought a wave of relief over a weary traveler. With its mouthwatering pecan delicacies, cheap breakfasts, and souvenirs to brag back home, the place was a highway paradise in the 30s, and all the way into the 70s.
W.S. Stuckey started out small as a travelling pecan salesman from Georgia. But in the 30s when he sensed the rise of American road system, he grabbed the opportunity to start a small stand by the roadside with his pecan delicacies. His wife was a great support to him, and together they raised an empire over time. The stand turned into a store which later got upgraded as a restaurant.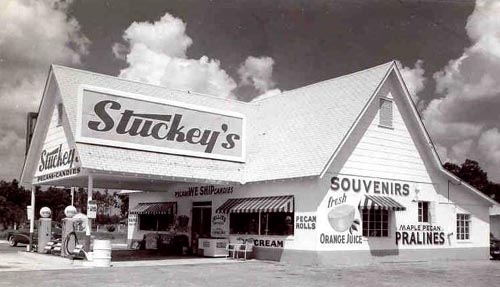 The business spread like wildfire. Texaco partnered up with Stuckey's and converted the stores into one-stop shops. So, travelers would have their lunch, get their deserts, buy a souvenir, and fill up their gas, all at the same place. Stuckey's franchises crowded American map.
And then Mr. Stuckey sold his empire to Pet Milk, Inc in 1964, effectively leading to the company's downward spiral. It was a chain that was created out of love, passion and a personal touch by the owner himself. When that was taken away and everything was only commercial, Stuckey's good days were coming to an end.
But the chain was saved by Mr. Stuckey's son who became a US Congressman. With the help of some investors, W.S. Stuckey Jr. decided to not let his father's legacy fade and revived the dying chain. Today, there are 200 Stuckey's in 19 states.
The stores today have most of the signature items that made the store so great in its prime time. The Pecan Log Rolls that you so cherished back then are still available in the stores today. The revival has not let the magic of bygone years go away. In fact, it has brought the Stuckey's back in all its glory.
Credit: retroland