James Corden and Tom Cruise get punny on "The Late Late Show".
Last week, Corden convinced Cruise to hop on board a cruise ship with a very familiar theme. The ship was decked out with decor from a slew of popular Cruise flicks.
"What better way to start Tom's cruise [than with] a 'Risky Business' contest?!" Corden asked a crowd of enthusiastic Cruise impersonators.
In a case that is becoming quite frequent of "The Late Late Show", Corden's guest grabbed all the attention and Corden was left by his lonesome on a makeshift set of his talk show.
Cruise came to Corden's aid and the scene closed on a boat-wide rendition of "You've Lost That Loving Feeling" from "Top Gun."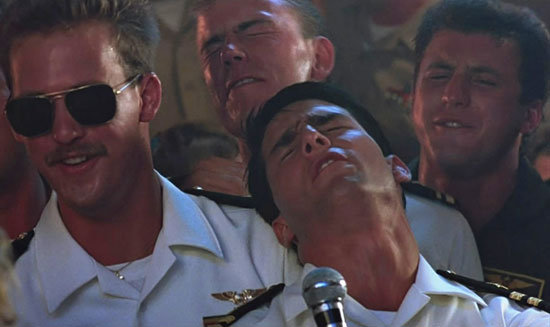 The famous actor has kept busy as ever with "The Mummy", "American Made", "Mission Impossible 6", and now the "Top Gun" sequel, all on the way.
Tom Cruise is in New York City at the premiere of his monster movie "The Mummy" and he dished details on the recently-confirmed "Top Gun" sequel:
(SOURCE: Entertainment Tonight, Canada: Tom Cruise Takes Musical Cruise And Relives His Famous Roles
RELATED:
James Corden As Mary Poppins Is Supercalifragilisticexpialidocious!