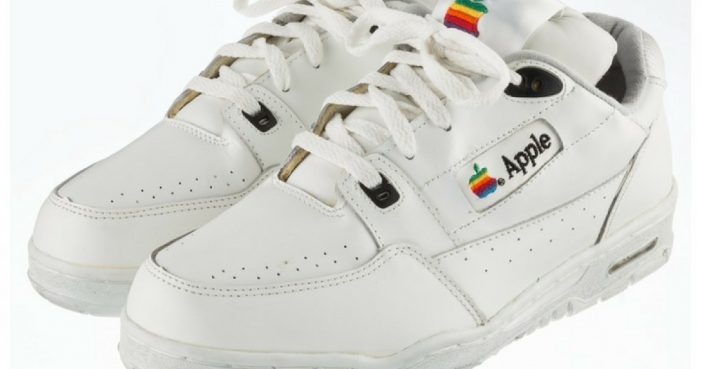 The Apple Corporate is an extra-rare trainer designed exclusively for Apple staff in the 1990s. A pair of them, size 9 1/2, is about to be auctioned by Heritage Auctions in Beverly Hills on June 11, and there are loads of people ready to run for them. The sneakers are made of white leather with the original rainbow Apple logos on tongue and sides. Leon Benrimon, director of the Modern and Contemporary Art section at Heritage Auctions tells business insider that it's a unique item, rarely seen, even in photos.
The opening bid for these rarities is $15,000 and are estimated to hit the floor running. They expect to get $30,000 so get online and start bidding!
Although it was sold on Ebay in 2007 for around £62, at a time when nobody really knew such a trainer existed, Heritage Auctions expects to get a record price for it now: the starting price is over £115.000 but bids should overtake this figure pretty quickly. Mashable reported that last year, a private seller sold a leather jacket worn by Steve Jobs for £17.000.
(Source: Konbini & Heritage Auction)
RELATED AUCTIONS AND STORIES:
Rare, Original Concert Posters Are Hitting The Auction Block!
The Personal Property Auction Of Debbie Reynolds And Carrie Fisher