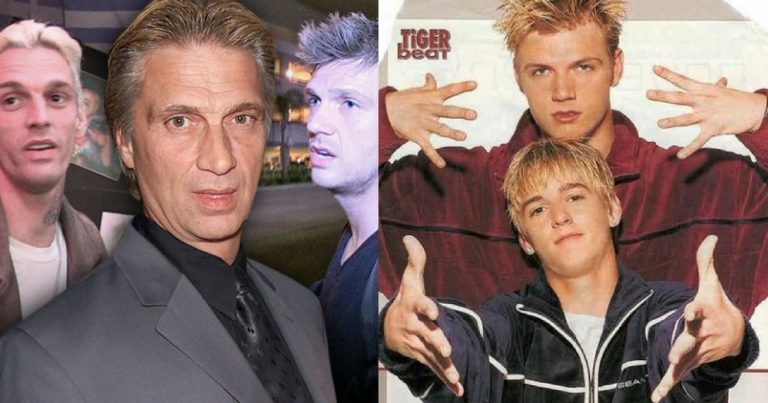 SOURCE: People Magazine

Bob Carter, the father of Backstreet Boys member Nick Carter and singer Aaron Carter, has died, PEOPLE confirms. He was 65.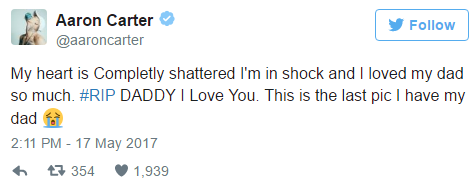 The Carter patriarch passed away on Tuesday evening in Florida.
"I am heartbroken to share the news that our father, Robert, passed away last night…" Nick, 37, tweeted on Wednesday. "While we learn more about the cause of death, and begin the grieving process, we ask that our privacy be respected at this difficult time."

"My heart is completely shattered," Aaron, 29, tweeted — sharing the last photo the two took together. "I'm in shock and I loved my dad so much. #RIP DADDY I Love You." In an Instagram post, he added, "My heart is broken. We are so hurt we lost you poppa way too soon. You were never human to me, you were always my real life super hero."
This is the second tragedy for the Carter family in recent years. Nick and Aaron's sister Leslie passed away in 2012 at the age of 25, after a drug overdose.
The Carter family has had a fractious relationship over the years, with Bob and ex-wife Jane Carter divorcing in 2004 and Bob marrying Ginger Elrod that same year.
"We've had some very tough times," Bob told PEOPLE in 2008. "There's a lot of pitfalls to growing up in the public eye."
In his 2013 book Facing the Music and Living to Talk About It, Nick explained that while his relationship with his family has been "toxic" in the past, he was working in therapy to become a better communicator.
TMZ was first to report news of Bob's death.
Source: People: Bob Carter, Father of Nick and Aaron Carter, Dead at 65
Our sincerest condolences go out to @NickCarter And @AaronCarter and their family, friends and fans at this difficult time. RIP "Poppa Smurf Carter" From all of us @DoYouRemember.com