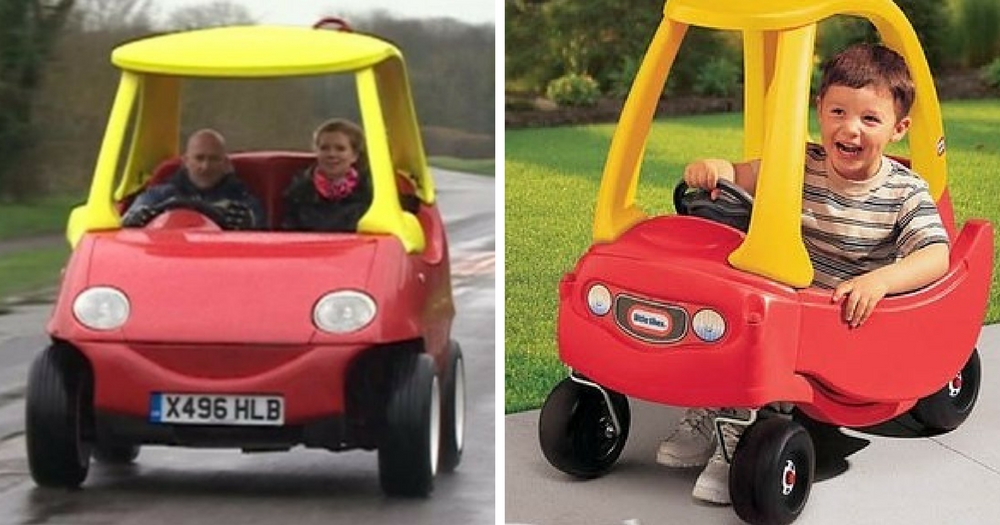 Do you remember that red-and-yellow plastic coupe that we all drove as kids? The foot-peddled car that was drove up and down the neighborhood sidewalks and tested our abilities to parallel park between your dresser and your bed? Well, now it's street legal, and its for sale on eBay — best of all, your adult frame won't have to scrunch into a fetal position to fit, because two British dudes created an adult-sized version you can drive on real roads.
Brothers John and Geof Bitmead constructed an adult-sized copy of a Little Tikes toy car, which takes petrol, has a tax disc, and can reach speeds of up to 70mph (110km/h).
The modified Daewoo Matiz also includes an airbag, headlights and mirrors.
The brothers said they had the "nutty idea" to build the motoring marvel after noticing the similarity of the front and headlamps of the Daewoo to the Cozy Coupe classic toy.
READ FULL ARTICLE: 'Little Tike' Real Life Car Goes On Sale For Adults
(Sources: BBC)
Would you want to own one? Share your thoughts in the comment section below…