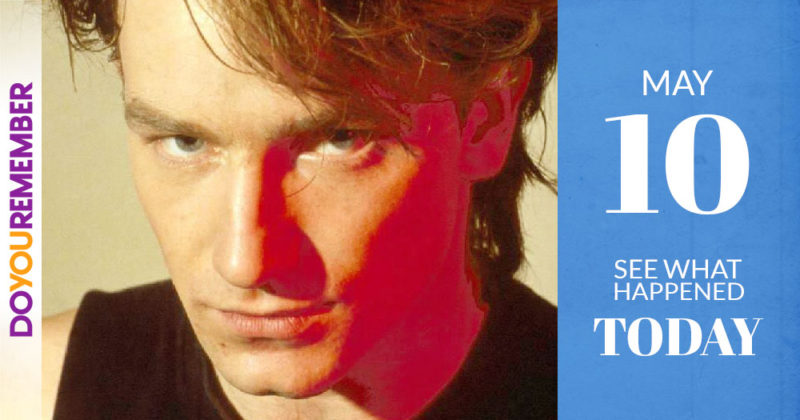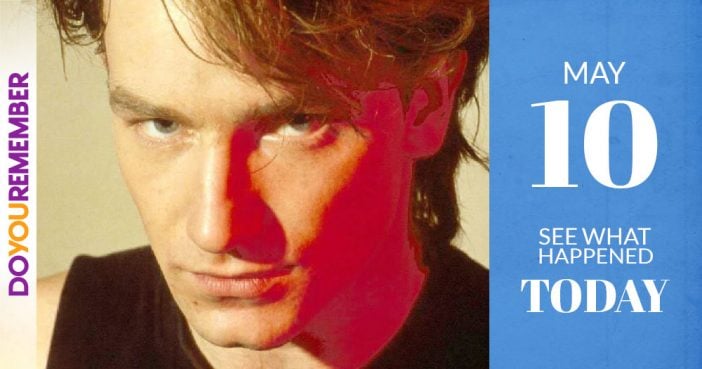 "BORN TODAY"
Lauren Potter (1990) – Actress ("Glee")

Odette Annable (1985) – Actress ("Unborn")

Kenan Thompson (1978) – Actor ("Saturday Night Live")
Todd Lowe (1977) – Actor ("True Blood)

Andrea Anders (1975) – Actress ("The Class")

Leslie Stefanson (1971) – Model, Actress ("The General's Daughter")

Dallas Roberts (1970) – Actor ("The Walking Dead")

Erik Palladiono (1968) – Actor ("ER")
Young MC (1967) – Rapper
Jason Brooks (Jason Maxwell Brooks) (1966) – Actor ("Days of our Lives")
Linda Evangelista (1965) – Model
Lisa Nowak (1963) – NASA Astronaut
"Bono" (Paul Hewson) (1960) – Musician (U2)  (Pictured Above)


Victoria Rowell (57)

Ellen Ochoa (58)

Paige O'Hara (60)

Sid Vicious (1957 – 1979 RIP) – Bassist and Vocalist (Sex Pistols)

Miuccia Prada (67)

Donovan (Donovan Philips Leitch) (1946) – Singer, father of Donovan Leitch, Jr.
Gary Owens (1934 – 2015 RIP) – Announcer ("Rowan and Martin's Laugh-In")

Barbara Taylor Bradford (1933) – Novelist ("A Woman Of Substance")

Nancy Walker (1922 – 1992 RIP) Actress, comedienne
Charles McGraw (Charles Butters) (1914 – 1980 RIP) Actor
Maybelle Carter ("Mother Maybelle" Carter) (1909 – 1978 RIP) Country musician (Carter Family)
David O. Selznick (1902 – 1965 RIP) Film producer ("Gone with the Wind")
Fred Astaire (Frederick Austerlitz) (1899 – 1987 RIP) Film and stage dancer, choreographer, singer, actor
"DIED TODAY"
Paul Revere (

Born

: January 1, 1735 /

Died

: May 10, 1818

)

Stonewall Jackson (

Born

: January 21, 1824 /

Died

: May 10, 1863

)

Joan Crawford (

Born

: March 23, 1905 /

Died

: May 10, 1977)

John Wayne Gacy (

Born

: March 17, 1942 /

Died

: May 10, 1994

)

Shel Silverstein (

Born

: September 25, 1930 /

Died

: May 10, 1999

)
"MOVIES TODAY"
Click on the movie title to watch it's trailer.
"MUSIC TODAY"
1960 – The Silver Beetles (John Lennon, Paul McCartney, George Harrison, Stuart Sutcliffe, and Tommy Moore) auditioned for promoter Larry Parnes and singer Billy Fury for a job as Fury's backing group. Parnes was also looking for backing groups for his lesser-known acts, and The Silver Beetles were selected as backing group for singer Johnny Gentle's upcoming tour of Scotland. The group had changed its name from 'The Beatals' to 'The Silver Beetles' after Brian Casser (of Cass and the Cassanovas) remarked that the name 'Beatals' was "ridiculous". He suggested they use the name 'Long John and the Silver Beetles', but John Lennon refused to be referred to as 'Long John'.

1963 – The Rolling Stones recorded the Chuck Berry song 'Come On', at Olympic Studios, London. This the bands first release was issued on the 7th June 1963 by Decca Records.

1964 – Bob Dylan arrived in Britain for his first major UK tour including a show at London's Royal Festival Hall on the 17th of this month.

1965 – The Rolling Stones recorded a version of '(I Can't Get No) Satisfaction' at Chess Studios in Chicago, with Brian Jones on harmonica. The group re-recorded it two days later at RCA Studios in Hollywood, with a different beat and the Gibson Maestro fuzzbox that Keith Richards had recently aquired, adding sustain to the sound of the guitar riff.
1969 – Fleetwood Mac, Pink Floyd, The Move, Status Quo, Tremeloes, Marmalade, Love Sculpture, Van Der Graaf Generator all appeared at Nottingham County Football Ground, Nottingham, England. Presented by John Peel tickets 22/6 on the gate.

1969 – Frank Sinatra's version of 'My Way' made the British Top ten for the first time. Over the next three years it re-entered the Top 50 singles chart on eight different occasions.

1969 – The Moody Blues started a two-week run at No.1 on the UK album chart with 'On The Threshold Of A Dream' (their first No.1 album).

1969 – The Soundtrack to "Hair" by the Original Cast was #1 on the Album chart for a third week

1969 – Led Zeppelin made their first appearance on the UK album chart when the band's debut album charted at No. 6, going on to spend 71 weeks on the UK chart. It entered the US chart the following week at No. 10.

1970 – David Bowie was awarded an Ivor Novello Award for Best Original Song 'Space Oddity' which he performed that night accompanied by the Les Reed Orchestra. The event was transmitted live via satellite to venues in America, France, Spain, Australia, Holland and Venezuela. Bowie would later revisit his Major Tom character in the songs 'Ashes to Ashes' and 'Hallo Spaceboy'.
1974 – Eric Clapton recorded "I Shot the Sheriff."

1975 – Stevie Wonder and his band Wonderlove played for 125,000 people at the Washington Monument as part of Human Kindness Day.

1975 – Apple Records, the record company owned by the Beatles, dissolved.

1980 – "Call Me" by Blondie beat back the competition for #1

1983 – Metallica began recording the album "Kill 'Em All" in New York. They finished on May 27, 1983.

1985 – All girl group The Go-Go's announced they were breaking up. The members went on to enjoy solo success.

1986 – Falco was at No.1 on the UK singles chart with 'Rock Me Amadeus.'
1986 – The Pet Shop Boys went to No.1 on the US singles chart with 'West End Girls', the duo's first US No.1, also a No.1 in the UK.

1988 – In the U.K.,Prince's 10th album was released entitled "Lovesexy." Some stores refused to sell the album due to the nude portrait that was on the cover. 

1991 – Madonna's 'warts and all' documentary film Truth Or Dare, chronicling the life Madonna during her 1990 Blond Ambition World Tour, premiered in Los Angeles.

1997 – Gary Barlow scored his second UK No.1 single with a song written by Madonna, 'Love Won't Wait', the former Take That singer's second and last solo hit.
"TV/RADIO TODAY"
1928 – WGY-TV in Schenectady, NY, began regular television programming.

1964 – Dusty Springfield made her U.S. television debut on the "Ed Sullivan Show."

1986 – Paul Simon was the guest on Saturday Night Live.
"OTHER IMPORTANT EVENTS…"
1872 – Victoria Woodhull became the first woman nominated for the U.S. presidency.

1908 – The first Mother's Day observance took place during a church service in Grafton, West Virginia.

1924 – J. Edgar Hoover was appointed head of the Federal Bureau of Investigation.

1962 – Marvel Comics published the first issue of "The Incredible Hulk."
1967 – Mick Jagger and Keith Richards appeared at Chichester Crown Court, Sussex, charged with being in possession of drugs, they elect to go to trial pleading not guilty and were both granted bail.

1968 – Preliminary Vietnam peace talks began in Paris.

1968 – Jim Morrison, seeing what he thought was abuse of audience members by policemen, incited a riot at a Doors concert at the Chicago Coliseum.

1969 – The Turtles gave a special performance at the White House as guests of Tricia Nixon. Stories circulate concerning members of the group allegedly snorted cocaine on Abraham Lincoln's desk.

1994 – Rapper Tupac Shakur began serving a 15-day county jail term for attacking director Allen Hughes on a video set.

1994 – Nelson Mandela was sworn in as South Africa's first black president.

1999 – American singer, songwriter poet, cartoonist, screenwriter, and author of children's books Shel Silverstein died of a heart attack aged 57.

2000 – Bobby Brown was arrested at Newark airport, New Jersey for breaking his probation order.

2000 – Michael Bolton lost his appeal against a court ruling that he stole part of his 1991 hit 'Love Is a Wonderful Thing' from an Isley Brothers song.
"NATIONAL DAYS"
Please help us keep our daily "DYRT" (Do You Remember Today") up to date. If you have any additions, subtractions, changes or suggestions, we would appreciate your feedback! Than