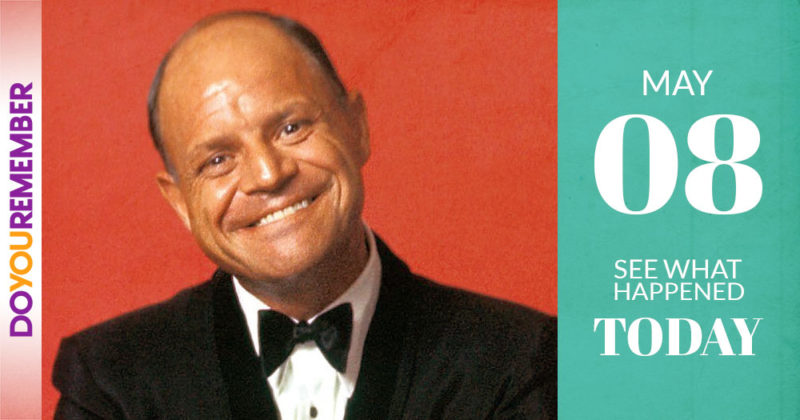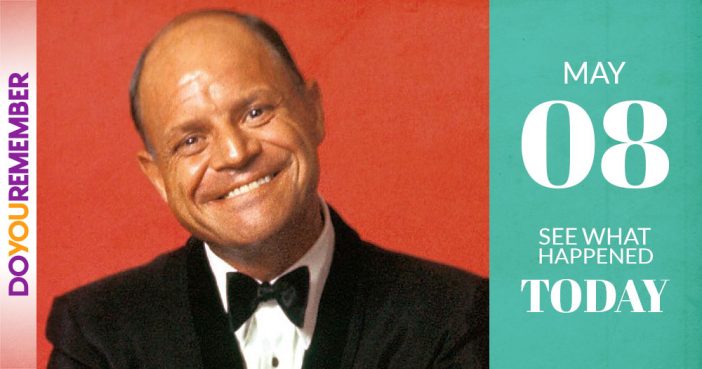 "BORN TODAY"
Martha Wainwright (1976) – Folk-rock singer-songwriter
Enrique Iglesias (1975) – Singer
Darren Hayes (1972) – Singer-songwriter, comedian, and podcaster.
Melissa Gilbert (1964) – Actress (TV: "Little House on the Prairie")

Michel Gondry (1963) – Film director, screenwriter, and producer.

David Keith (1954) – Actor ("An Officer And A Gentleman")

Billy Burnette (1954) – Musician (Fleetwood Mac)
Alex Van Halen (1955) – Musician (Van Halen )
Phillip Bailey (1951) – Singer (Earth, Wind and Fire)
Chris Frantz (1951) – Musician (Talking Heads, Tom Tom Club)
Gary Glitter (1944) – Singer
Toni Tennille (1940) – Singer (The Captain and Tennille)


Phyllida Law (1932) – Actress ("Much Ado About Nothing")

Sir David Attenborough (1926) – Environmentalist

Don Rickles (1926 – RIP) (Featured Above) – Comedian
Ricky Nelson (Eric Hilliard Nelson) (1940 – RIP) – Musician
"DIED TODAY"
Dana Plato (

Born

: November 7, 1964 /

Died

: May 8, 1999

)

Dirk Bogarde (

Born

: March 28, 1921 /

Died

: May 8, 1999

)
"MOVIES TODAY"
Click on the movie title to watch it's trailer.
"MUSIC TODAY"
1941 – Anita O'Day recorded "Let Me Off Uptown" with Gene Krupa and his band.

1955 – Tony Bennett was at No.1 on the UK singles chart with 'Stranger In Paradise'. Based on a theme from Borodin's 1888 opera – 'Prince Igor'. The song was a hit in the 1953 Broadway show 'Kismet'.

1961 – Del Shannon's "Runaway" continued to set the pace at #1 for a third week.

1964 – The Beatles had held the No.1 position on the US singles chart for fourteen weeks with three No.1's in succession. 'I Want To Hold Your Hand' for seven weeks, 'She Loves You' for two weeks and 'Can't Buy Me Love', for five weeks.
1967 – Gerry and the Pacemakers announced they were splitting up.

1970 – The Beatles twelfth and final album, Let It Be was released, (it was recorded before the Abbey Road album, and was originally to be called 'Get Back'). The album came in a deluxe-boxed edition with a 'Get Back' book.

1971 – "If" by Bread was #1 for the third week in a row on the Easy Listening chart.  

1971 – Three Dog Night held on to #1 for a fourth week with "Joy To The World"

1972 – Billy Preston became the first rock performer to headline at Radio City Music Hall.

1976 – ABBA scored their third UK No.1 single with 'Fernando', the song went on to become ABBA's biggest selling single, with sales over 10 million.
1976 – Former lead singer of the Lovin Spoonful John Sebastian went to No.1 on the US singles chart with 'Welcome Back', taken from the US TV show 'Welcome Back Kotter'.

1977 – Olivia Newton-John made her New York City debut with a concert at the Metropolitan Opera House.

1982 – Paul McCartney scored his fifth UK No.1 album with 'Tug Of War'.

1982 – Vangelis went to No.1 on the US singles chart with 'Chariots Of Fire', his only US No.1. Vangelis was accused of plagiarising 'Chariots of Fire' from a song by fellow Greek composer Stavros Logaridis called 'City of Violets'.

1982 – "Shanghai Breezes" by John Denver led the way on the Adult Contemporary chart.
1984 – Roger Waters released his first solo album The Pros And Cons Of Hitch Hiking. The concept album, as originally envisioned by Waters in 1977, rotated around a man's thoughts during a midlife crisis, and featured guest musicians Eric Clapton on guitar, David Sanborn on saxophone and Michael Kamen on piano.

1993 – Aerosmith entered the US album chart at No.1 with 'Get A Grip', a No.2 hit in the UK. The album went on to sell over 20 million copies worldwide as well as winning the band two Grammy awards.

1993 – Mark Knopfler received an honorary music doctorate from the University of Newcastle upon Tyne, England.

1993 – Whitney Houston remained at #1 on the Adult Contemporary chart with "I Have Nothing".

1999 – Ricky Martin went to No.1 on the US singles chart with 'Livin' La Vida Loca'. The song spent 5 weeks at No.1.
"TV/RADIO TODAY"
1954 – BBC radio in the UK banned the Johnny Ray song 'Such a Night' after listeners complain about its 'suggestiveness'. Ray was famous for his emotional stage act, which included beating up his piano, and writhing on the floor.

1984 – Joanie (Erin Moran) and Chachi (Scott Baio) got married on ABC-TV's "Happy Days."
"OTHER IMPORTANT EVENTS…"
1794 – The United States Post Office was established.

1847 – The rubber tire was patented by Robert W. Thompson.

1886 – Pharmacist Dr. John Styth Pemberton invented what would later be called "Coca-Cola."  

1945 – U.S. President Harry Truman announced that World War II had ended in Europe.

1956 – Alfred E. Neuman appeared on the cover of "Mad Magazine" for the first time.

1959 – Mike and Marian Ilitch founded "Little Caesars Pizza Treat".
1969 – John Lennon, George Harrison, and Ringo Starr signed a business management contract with Allen Klein and his company ABKCO, but Paul McCartney refused to sign, continuing to let the Eastmans represent his interests.

1978 – Donny Osmond was married at the age of 21 to his wife Debra.

1982 – Neil Bogart died of cancer at the age of 39. Bogart was the founder of Casablanca Records, with Peter Guber, home of Donna Summer, The Village People, KISS, T.Rex and Joan Jett.

1984 – The Soviet Union announced that they would not participate in the 1984 Summer Olympics Games in Los Angeles.

1985 – "New Coke" was released to the public on the 99th anniversary of Coca-Cola.
1990 – Tom Waits won $2.5 million when a Los Angeles court ruled that Frito-Lay unlawfully used a Waits sound alike in its Doritos ads.

1992 – Will Smith (the Fresh Prince) and songwriter Sheree Zampino were married.

1995 – Rick Nelson was inducted posthumously into the Hollywood Rock Walk.

1996 – A Los Angeles judge ruled against Tommy Lee and wife Pamela Anderson in their bid to keep Penthouse magazine from publishing still photos from an X-rated home movie that was stolen from their home.

1998 –  Johnny Winter received a star on Hollywood's Rock Walk.

1998 – The Smashing Pumpkins filed a lawsuit against Westwood One, claiming the radio syndication company had breached an oral and implied agreement when they licensed an interview in 1991 with the band.
"NATIONAL DAYS"
Please help us keep our daily "DYRT" (Do You Remember Today") up to date. If you have any additions, subtractions, changes or suggestions, we would appreciate your feedback! Thank you!