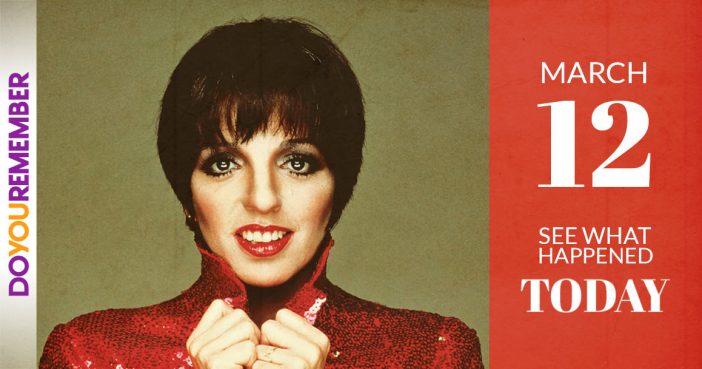 "March 12"
"BORN TODAY"
Edward Albee (1928) – RIP
Barbara Feldon (1933)
Al Jarreau (1940) – RIP
Liza Minnelli (1946)
Mitt Romney (1947)
James Taylor (1948)
Ron Jeremy (1953)
Lesley Manville (1956)
Marlon Jackson (1957)
Courtney B. Vance (1960)
Julia Campbell (1962)
Darryl Strawberry (1962)
Aaron Eckhart (1968)
Pete Doherty (1979)
Holly Williams (1981)
Jaimie Alexander (1984)
Danny Jones (1986)
"DIED TODAY"
Mike Gibbins (Born: March 12, 1949 / Died: October 4, 2005)
"MOVIES TODAY"
1938 – Snow White and the Seven Dwarfs 
1943 – Disney's Donald Duck
1954 – Stormy the Thoroughbred
1955 – Merrie Melodies short: Lighthouse Mouse
1964 – A Tiger Walks
1971 – Plaza Suite    
1971 – The Andromeda Strain 
1982 – Missing 
1993 – CB4
1993 – A Far Off Place
1993 – Fire in the Sky  
1999 – Wing Commander
1999 – The Deep End of the Ocean 
1999 – Baby Geniuses
"MUSIC TODAY"
1957 – Buddy Holly & the Crickets recorded "Maybe Baby". at Norman Petty's studio in Clovis, New Mexico.
1966 – Wilson Pickett latched onto #1 on the R&B chart with "634-5789 (Soulsville, U.S.A.)".
1966 -There were three new songs in the Top 10 –  The Rolling Stones moved to #6 with "19th Nervous Breakdown".
1973 – Stevie Wonder released the single "You Are The Sunshine Of My Life".
1977 – Olivia Newton-John rose to #1 on the Adult chart with "Sam", her ninth #1 on the Adult chart.
1977 –  The Soundtrack to "A Star Is Born" was the #1 album for the fifth week with former #1 Hotel California by the Eagles still at #2.
1977 –  For the third week, Natalie Cole owned the top R&B song with "I've Got Love On My Mind".
1979 –  Peaches & Herb released the single "Reunited".
1980 –  Billy Joel released the album Glass Houses.
1983 –  Def Leppard first appeared on the chart on this date with their first single release–"Photograph".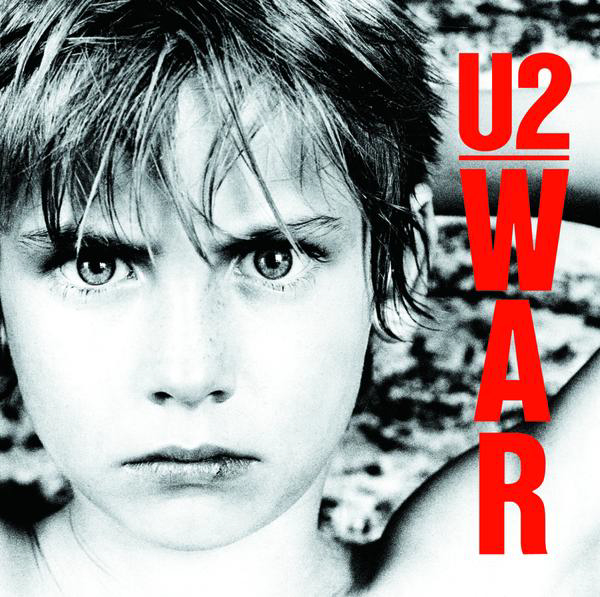 1983 –  U2 had the #1 U.K. album with War.
1983 –  Bonnie Tyler moved to #1 in the U.K. with "Total Eclipse Of The Heart".
1983 – Thriller by Michael Jackson was the top album for the third straight week. Frontiers by Journey moved up to #2 with H2O from Hall & Oates next.
1983 – "Billie Jean" was the #1 R&B song for the fifth straight week for Michael Jackson.
1988 – Rick Astley unseated George Michael at #1 with "Never Gonna' Give You Up" with "Father Figure" falling to 2.
1988 – Randy Travis' "Too Gone Too Long" goes to #1 on the Billboard country singles chart
1988 –  "Never Gonna' Give You Up" by Rick Astley was the new #1 song on the Adult Contemporary chart.
1990 – Sinead O'Connor released the single "Nothing Compares 2(sic) U(sic)".
1991 –  R.E.M. released the album Out of Time.
1991 – Alan Jackson scored his first #1 on Billboard Hot Country Singles & Tracks chart, with "I'd Love You All Over Again." The song was written by Alan for his wife, Denise in a hotel room in Pine Bluff, Arkansas on a rainy evening.
1994 –  Mariah Carey logged an eighth week at #1 with the album Music Box.
1994 – After three weeks at #2, Ace of Base finally moved to #1 with "The Sign".
1997 – Trace Adkins picks up his first gold album with his debut, "Dreamin' Out Loud"
"TV/RADIO TODAY"
1937 – Walt Disney is interviewed on radio by NBC radio veteran, Elza Schallert (an entertainment correspondent).
1961 – The TV series Walt Disney Presents airs "Daniel Boone: The Wilderness Road."
1965 –  James Darren was a guest voice (as "Jimmy Darrock") on the season finale of The Flintstones on ABC-TV.
1977 –  Lynn Anderson ("Rose Garden") was a guest on Starsky & Hutch on ABC-TV.
"OTHER IMPORTANT EVENTS"
1894 – Coca-Cola is sold in bottles for the first time in Vicksburg, Mississippi
1912 – The Girl Scout organization was founded. The original name was Girl Guides.
1969 –  Elvis begins filming his thirty-first and last fictional film, Change Of Habit, in which, as a ghetto doctor, he accidentally seduces a nun played by Mary Tyler Moore.
1969 – At tonight's Grammy Awards ceremonies, the big winners are Simon and Garfunkel, who win Record of the Year for "Mrs. Robinson," and Glen Campbell, who wins Album of the Year for By The Time I Get To Phoenix.
1971 –  Mick Jagger, lead singer of the Rolling Stones, married Bianca Perez Morena de Macias.
1971 –  The Allman Brothers performed March 12-13 at the Fillmore East in New York City, shows that were recorded and later released as a live album.
1971 –  A High Court judge in London ruled in favor of Paul McCartney to dissolve the Beatles' partnership.
1975 – The divorce of George Jones and Tammy Wynette is finalized. Wynette takes custody of their only child, Tamala, and keeps their home on Franklin Road in Nashville
1987 – "Les Miserables" opened on Broadway.
1993 – The Cleveland radio station WMMS-FM/101.7 is purchased by Disney.
1994 –  Pat Benatar and husband Neil Geraldo celebrated the birth of daughter Hana Juliana.
1996 –  Nancy Sinatra ("These Boots Are Made For Walkin'") donated her white go-go boots to the Hard Rock Cafe of Beverly Hills, California.
1998 –  Cathay Pacific Airways announced the banning of Liam Gallagher of Oasis following an incident on a flight from Hong Kong to Australia.