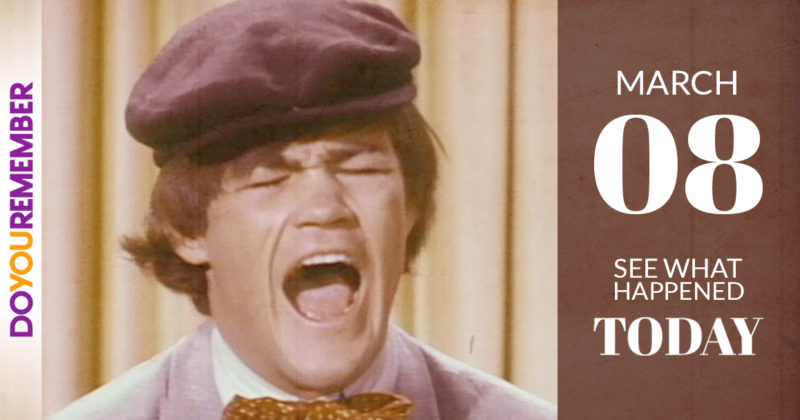 "March 8"
"BORN TODAY"
Freddie Prinze Jr. (40)
Kat Von D (34)
Nick Zano (38)
James Van Der Beek (39)
Hines Ward (40)
Boris Kodjoe (43)
Andrea Parker (46)
Camryn Manheim (56)
Lester Holt (57)
Aidan Quinn (57)
Gary Numan (58)
Carole Bayer Sager (69)
Micky Dolenz (71)
"DIED TODAY"
Harold Lloyd (Born: April 20, 1893 / Died: March 8, 1971)
Ronald "Pigpen" McKernan (Born: September 8, 1945 / Died: March 8, 1973)
Billy Eckstein (Born: July 8, 1914 / Died: March 8, 1993)
Adam Faith (Born: July 8, 1914 / Died: March 8, 1993)
"MOVIES TODAY"
1940 – "Females Is Fickle"
1946 –  Goofy short A Knight for a Day
1967 – The Adventures of Bullwhip Griffin
1968 – Stay Away, Joe
1985 – Mask
1991 – New Jack City
1991 – The Hard Way  
1996 – The Birdcage    
1996 – Fargo
"MUSIC TODAY"
1954 – Herb McKenley set a world record for the quarter mile when he ran the distance in 46.8 seconds.
1969 – James Brown had his 8th #1 on the R&B chart–"Give It Up Or Turnit A Loose".  Yeah.
1969 –  Glen Campbell moved from #87 to #47 with "Galveston".
1969 –  Sly & the Family Stone held off all challengers for a fourth week at #1 with one of The Top 500 Songs of the Rock Era*–"Everyday People".
1972 – "Kiss An Angel Good Mornin'" brings Charley Pride a gold single
1974 –  John Denver recorded "Annie's Song" and "Thank God I'm A Country Boy".
1975 – Conway Twitty's "Linda On My Mind" rests at #1 on the Billboard country chart
1975 –  B.T. Express had the top R&B song, one of The Top 100 Instrumentals of the Rock Era*–"Express".
1975 –  "Have You Never Been Mellow" by Olivia Newton-John was the new #1 on the Adult chart. The Doobie Brothers were right behind with "Black Water" with Frankie
1976 –  Silver Convention released the single "Get Up And Boogie".
1980 –  Chuck Mangione returned to #1 for a third week on the Adult Contemporary chart with his theme to the Winter Olympics–"Give It All You Got".
1980 –  You didn't have to be a genius to know where this song was going–"Call Me" by Blondie moved from 61 to 28 on this date.
1980 – Willie Nelson reaches #1 on the Billboard country singles chart with "My Heroes Have Always Been Cowboys"
1980 – Queen lasted a third week at #1 with "Crazy Little Thing Called Love", holding off Teri DeSario and K.C.'s "Yes, I'm Ready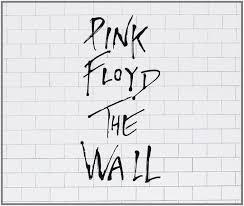 1980 –  Pink Floyd's The Wall was #1 on the Album chart for the eighth week.
1982 – The Oak Ridge Boys earn a platinum single, for shipping 2 million copies of "Elvira"
1985 – The Internal Revenue Service (IRS) reported that 407,700 Americans were millionaires.
1986 –  Diana Ross had the #1 song in the U.K. with "Chain Reaction", a song written for her by the Bee Gees.
1986 –  For the third week, Starship controlled the AC chart with "Sara".
1986 –  "How Will I Know" by Whitney Houston was the new #1 on the R&B chart.
1986 –  After 50 weeks, Whitney Houston's debut album incredibly returned to #1.  It had previously peaked at #2 on October 26.  Just a sign of things to come.
1991 – "Love Can Build A Bridge" earns a gold album for The Judds
1997 –  The Spice Girls told us what we really, really want–"Wannabe" at #1 for the third week.
1999 – Faith Hill earns six nominations for the Academy of Country Music's "Hat" awards. Garth Brooks, Steve Wariner and Brooks & Dunn each appear four times on the ballot
"TV/RADIO TODAY"
1964 –  The Dave Clark 5 made their debut appearance by performing "Glad All Over"on The Ed Sullvan Show.
1964 – NBC-TV airs part one of the Walt Disney's Wonderful World of Color episode  "For the Love of Willadean."
1970 – The Wonderful World of Disney features part two of "Menace on the Mountain".
1975 –  Carole King was a guest star on The Mary Tyler Moore show on CBS-TV.
1979 –  The John Denver and the Ladies (Tina Turner and Cheryl Ladd) television special was broadcast on ABC-TV.
1987 – The television series The Disney Sunday Movie airs "Big Foot."
"OTHER IMPORTANT EVENTS"
1928 – The Disney studio completes the 22nd Oswald the Lucky Rabbit film Sky Scrappers, and ships it to Winkler Productions just days after negotiations with Charles Mintz (of Winkler Productions) breaks down.
1945 – Emmy Award-winning composer Bruce Broughton, whose music can be heard throughout Disney theme parks and in Disney's The Rescuers Down Under and Bambi II, is born in Los Angeles, California. .
1961 – Max Conrad circled the globe in a record time of eight days, 18 hours and 49 minutes in the Piper Aztec.
1965 – The U.S. landed about 3,500 Marines in South Vietnam. They were the first U.S. combat troops to land in Vietnam.
1970 –  Diana Ross was in concert for the first time as a solo artist with an eleven-day engagement at Monticello's in Framingham, Massachusetts.
1976 – NFL wide receiver Hines Ward is born in Seoul, South Korea, to an African American father and a Korean mother.
1983 – U.S. President Reagan pays a visit to EPCOT, escorted by Dick Nunis, President of  Walt Disney World, and several hundred math and science students from Central  Florida.
1986 – The Pirates of the Caribbean and Alice's Tea Party attractions both open in Tokyo Disneyland.
1962 – Singer, songwriter and actress Taylor Dayne, who played the role of Princess Amneris in Disney's Broadway show Aida in 2001, is born Leslie Wunderman in Baldwin, New York.
1967 – Sandra Dee received a divorce from Bobby Darin.
1976 – A likeness of Elton John was unveiled at Madame Tussaud's Wax Museum in London.  Elton was the first rock star to be so honored since the Beatles.
1985 – "Commonwealth" magazine ceased publication after five decades.
1986 – Randy Travis makes his debut on the Grand Ole Opry.
1987 – Mike Tyson became the youngest heavyweight titleholder when he beat James Smith in a decision during a 12-round fight in Las Vegas, NV.
1997 – Disneyland's Pirates of the Caribbean reopens after being renovated.
1998 – Sara Evans makes her Grand Ole Opry debut, singing "Your Cheatin' Heart"
1999 – Disney's Doug Live! Officially debuts in the ABC TV Theater at the Disney-MGM Studios in Florida.