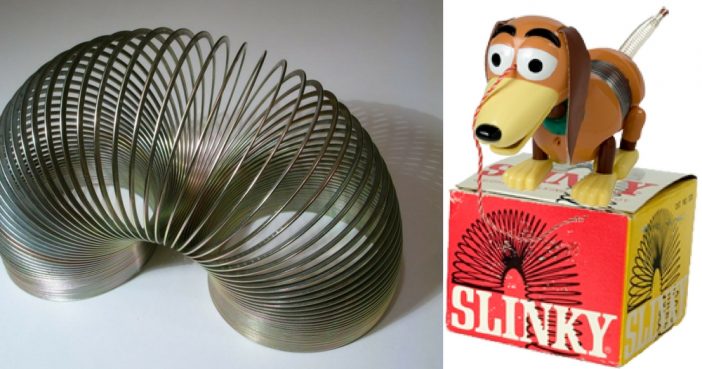 What were your favorite toys from your childhood? One of mine was definitely The Slinky.
Everyone knows the Slinky. Beloved by children and physics teachers alike, this toy debuted in 1945 and has yet to ever slink away. Odds are good that every kid had at least one Slinky during their lifetime and if they didn't actually own one, they've certainly played with one owned by somebody else.
How did a simple metal coil become such a childhood icon? Let's take a look back at this marvelous toy and find out. Naval engineer Richard James was testing tension springs for his suspension system when one of the springs ran away from him. Or rather, it fell and then walked away, admittedly strange behavior for an inanimate object.
The slinky is a toy, a precompressed helical spring invented by mistake, by Mechanical Engineer, Richard James in 1943. Mr. James was "working to devise springs that could keep sensitive ship equipment steady at sea. After accidentally knocking some samples off a shelf, he watched in amazement as they gracefully "walked" down instead of falling. James and his wife Betty later developed a plan to turn his invention into the next big novelty toy.  By the end of the 20th century and 250 million Slinkys later, people still continue to buy them." Slinky was inducted into the Toy Hall of Fame in 2000.
Click NEXT to read more about the slinky and it's random discovery…