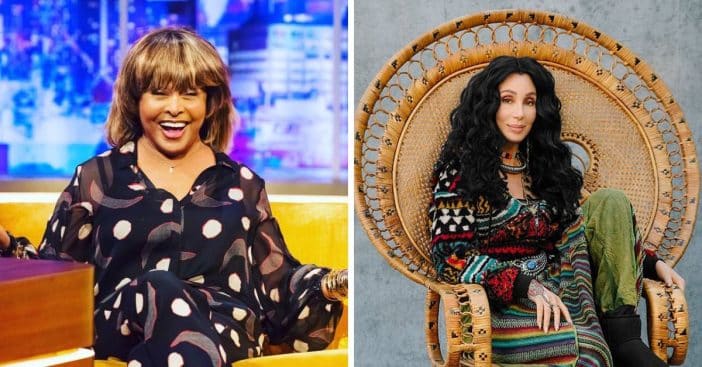 Tina Turner, who is famously referred to as the Queen of Rock 'n' Roll, recently passed away at the age of 83. On Wednesday, May 24th, a representative of the renowned singer announced her passing and revealed that she peacefully departed after a prolonged illness at her residence in Küsnacht, near Zurich, Switzerland.
In the wake of the sad news, her longtime friend and collaborator, Cher, recently revealed in a telephone interview with MSNBC's The Beat With Ari Melber that she was opportune to visit the late singer before her death.
Cher gives details of how she met the late singer
WATCH: Cher reflects on her close friend Tina Turner's legendary life.

"There was no other person like her. There was no other person who could come close to who she was." pic.twitter.com/lqhuCeobwt

— MSNBC (@MSNBC) May 25, 2023
Cher and Tina Turner shared a deep and longstanding friendship, which has been marked by various collaborations throughout their illustrious careers. She revealed that their connection dates back to the early 1960s, during a tumultuous period in her life, when she was trapped in an abusive relationship with Ike Turner, whom she was married to from 1962 to 1978.
"When I first knew her, she was still with Ike," she admitted. "It was very strange to see her with Ike and afterward. I was so thrilled because afterward, she was so free. You could just see her being able to take a big breath. Her new life was like a big, fresh breath."
Cher added that following their initial encounter, they started spending more time together, solidifying their friendship. "She was such a force. Honestly, I think she just hit everything head-on… She wasn't about to stop. She might not have won every battle, but she fought every war. She was there fighting for all the things she believed in, she's one of the great artists in our generation, in rock and roll. There was no other person like her," the 77-year-old confessed. "There's no other person who could come close to who she was. She gave me lots of strength sometimes, and I gave her lots of strength too."
Cher says Tina Turner was a happy soul despite her health challenge
Turner's life was riddled with several health challenges. She battled intestinal cancer and kidney failure, which led to her dependence on dialysis until 2017, when she got a transplant from her husband, Erwin Bach.
Cher revealed that Turner was a fighter as she faced the disease headlong. "She fought this sickness for such a long time, and she was so strong as you think she would be," she confessed, "but I know towards the end, she told me once, she said, 'I'm really ready. I just don't want to put up with this anymore.'"
Cher added that during her last encounter with the singer at her residence, she was in a happy state despite her health challenges. "She said, 'I can't spend too much time,' and then five hours later, we were laughing like crazy, and she wanted to get up and show everything she bought in the house," Cher stated. "… She was having a good time in spite of the fact that she was really sick and not wanting people to know about it."