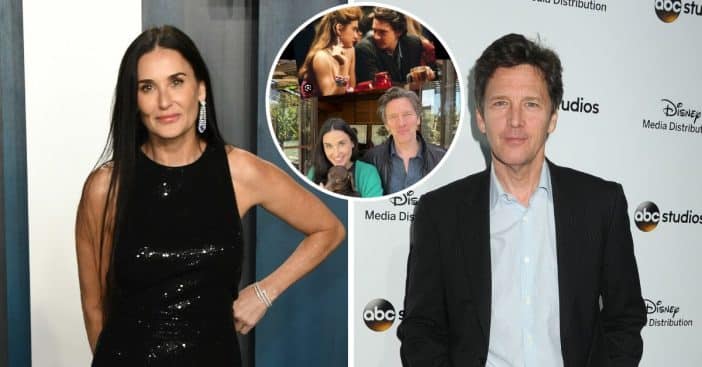 Recently, Demi Moore and her co-star from the 1985 romantic drama St. Elmo's Fire, Andrew McCarthy, had a delightful reunion. McCarthy took to his Instagram page to share a post that captured the moment of their mini-reunion almost four decades after the film was originally released.
"So great to see (for the first time in years and years) my St. Elmo's Fire co-star," the 60-year-old wrote in the caption alongside a picture which showed both of them having fun," the wondrous Demi Moore, and catch up for my Brat Pack documentary."
Andrew McCarthy speaks about Demi Moore and his other St. Elmo's Fire co-stars
View this post on Instagram
McCarthy made his notable entry into the movie industry with St. Elmo's Fire, which was also Moore's first movie after her time on the popular TV show General Hospital. The duo acted alongside other notable stars like Emilio Estevez, Rob Lowe, Ally Sheedy, and Judd Nelson, who later became known as The Brat Pack because of their roles in the movie.
While discussing his memoir, Brat: An '80s Story, in an interview with Fox News Digital, the 60-year-old detailed his work relationship with Moore. "Demi is great," McCarthy confessed. "She was a delight. To me, she was a bit of a loose cannon. I never knew what she was going to do or say, which I liked because I just never knew where she was coming from. So I've found it to be sexy and delightful."
In an Instagram post, McCarthy also talked about his previous reunions with two of his colleagues, Rob Lowe and Emilio Estevez. "Rob Lowe was the first actor I met in Hollywood. We did a movie called CLASS back in 1982, then we did ST. ELMO'S FIRE. Then we didn't see each other for 30 years, until getting together recently to chat for my upcoming BRAT PACK documentary. Felt like yesterday," he detailed. "Hadn't seen my old ST. ELMO'S FIRE co-star, Emilio Estevez in more than 30 years, when we got together to chat for my upcoming Brat Pack documentary. Felt like meeting a long lost brother."
Andrew McCarthy says he planned the reunion because of his new project
During a recent interview on One Nation with Brian Kilmeade, McCarthy gave hints about a new project that he is planning. "I'm in the process of making a documentary about the Brat Pack, and I went back and talked to all the old gang again," McCarthy revealed, "some I haven't seen in 30 odd years. And it was amazing to see the affection we all had for each other and our own youth in that time."
In the course of the interview, the 60-year-old also spoke about his relationship with his son, Sam, while discussing his new book, Walking with Sam which chronicles his adventure along the 500-mile Camino De Santiago trail with his son two years ago. "We think we know our kids, but we don't really see them at all," McCarty confessed to Kilmeade. "I think he also sees who I am much more clearly."