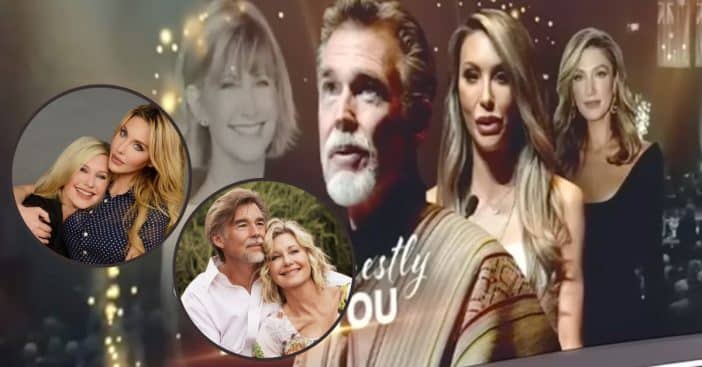 Olivia Newton-John was recently honored and remembered in her home country of Australia at a state memorial service. The service gave fans of the singer/actress a chance to say their final "goodbyes" and celebrate her incredible legacy.
Husband John Easterling and daughter Chloe Lattanzi also both gave speeches during the ceremony. Delta Goodrem also spoke at the ceremony, who collaborated with Newton-John and played her in the 2018 Australian biopic miniseries: Olivia Newton-John: Hopelessly Devoted to You.
Olivia Newton-John gets proper memorial in Australia
There were also countless video tributes from other celebrities included such as Elton John, Hugh Jackman, Dolly Parton, Mariah Carey, and more.
A huge part of Newton-John's legacy was a foundation dedicated to researching plant-based therapies for cancer and other diseases. "You have to understand, I wasn't an Olivia fan. I didn't know any Olivia music, I'd never even seen Grease," husband Easterling had said. "So this was a small little intimate theater in Miami. The lights went down, and I heard Peruvian flutes play, and she walked out on the stage and started singing 'Pearls on a Chain,' and there was this healing moving through the audience."
He continued, "People around me were crying, and I got it… It hit me like a laser beam in the chest, that Olivia was a healer. And this is one of her mediums of healing."
View this post on Instagram
Her 37-year-old daughter remembers her late mother's ability to find beauty in everything. "My mom could find the beauty in everything. My favorite thing to do was watch her watching the birds and the flowers, smelling her roses. The joy it brought to her face was a thing of beauty. I loved making her tea. And then making it five times again until I got it right," she said.
"I loved our snuggles — I would crawl into bed with her late at night, even until I was 20 years old. I loved the way she smelled, nothing felt safer to me. And I loved writing music and singing with her and how she would always notice if I was slightly off-key," Lattanzi says. "I love how she loved fully and completely."
View this post on Instagram
Newton-John died in 2022 at age 73 following a 30-year battle with breast cancer.