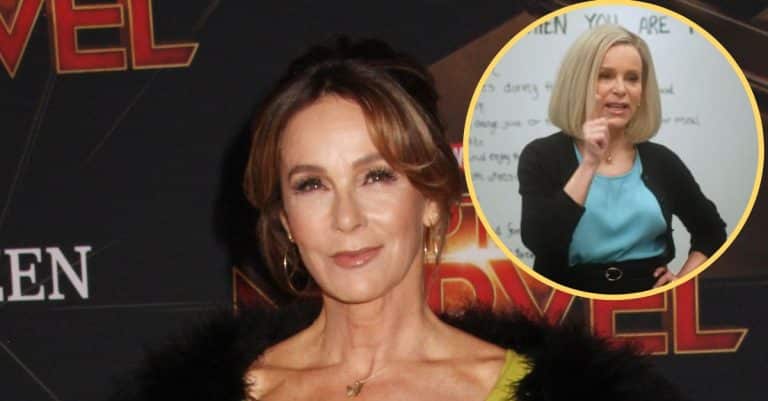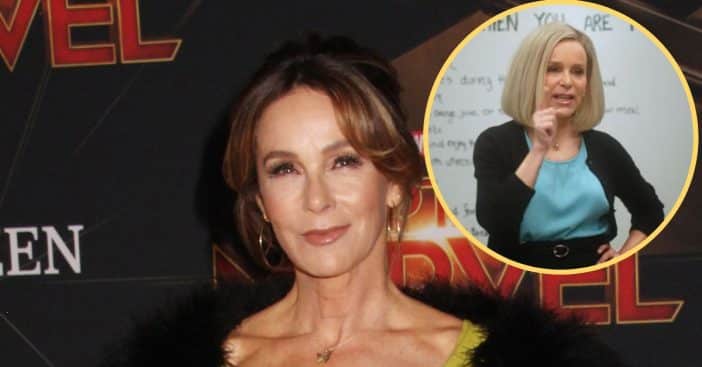 Recently, Jennifer Grey revealed in an interview with Entertainment Weekly how 'terrifying' it was to play the role of Christian diet guru Gwen Shamblin in her new Lifetime movie. She said it was a struggle trying to keep her weight up while portraying 'the personification of anorexia nervosa.'
The actress appears so different taking up the character of the frosted blonde church leader in the trailer for the movie, Gwen Shamblin: Starving for Salvation, which premiered on the 4th of  February. The film is centered on how the registered dietician got a cult following due to her controversial faith-based teachings in her Weigh Down Workshop before starting up the Remnant Fellowship Church in Tennessee in the late 1990s.
Jennifer Grey said that she was fascinated with Gwen Shamblin's story
The 62-year-old revealed that she had no knowledge whatsoever about Shamblin before getting the script from the producers  "I knew nothing at all. So, when the script landed in my inbox, I thought, "Oh, okay, this is a real person that Lifetime is doing a story about," Grey told Entertainment Weekly. "The first thing I did was I Googled her, and I got the visual right between the eyes of like, 'What the heck going on here?' I was completely riveted. I thought, "Why me?" [Laughs] And then the next thing I saw was that there was this two-part, very clearly respected and serious documentary about a real person who died."
Grey further explained that after some research about her character, she became fascinated with the thought of playing the role, "I looked at the trailer of The Way Down, and I was riveted, I was horrified, and I was so sad. I felt so much heaviness around it. My first thought was, 'Well, this is a terrifying prospect to play somebody so dark, who was a real person just recently on this earth.'"
The actress then saw the avenue as an opportunity to drive a change. "And the next thought was, how can I be part of a story that really corroborates a very powerful voice in our culture, which is about [the importance of] body size and perfectionism?" she told the outlet. "I feel that as human beings living in this culture, we are all so vulnerable to the voice of Gwen Shamblin, which says there is a shape and size and number that we must hit in order to be worthy of love, worthy of God's love, worthy of attention, worthy of success… To me, it is one of the most virulent and dangerous ideas."
Jennifer Grey gave Lifetime three conditions before accepting the role
The 62-year-old also detailed that she did not take up the role immediately, instead, she gave Lifetime some conditions to fulfill before agreeing to play the character of Gwen Shamblin. The first was that she wanted to use the movie to create awareness for people with eating disorders.
"I said to Lifetime, if I do this, there are three conditions. One is I must be able to use this as a platform to counter the message of 'it is best to be thin, it is best to aim for perfection.' She was the personification of anorexia nervosa, which has one of the highest or second-highest mortality rates [among eating disorders]," Grey said. "I thought, if I can do this and use this as a platform to raise awareness about seeking treatment, and to show the insanity and the misguidedness of her message, then I would be interested."
Grey also requested that she must get dialect tutelage and also many wigs. "And because I'd never worn a wig before and because I'd never done a dialect before, I said I would need to have incredible wigs, which are very expensive," she explained. "If you are not willing to pony up [for] that, I can't do it. And if you're not willing to pony up for as much dialect coaching as I feel I will need to be comfortable, I can't do it. Those were my terms."
Jennifer Grey revealed how she got her perfect wigs
The actress disclosed that the wigs she used in the production of the movie were gotten with the assistance of a colleague who referred her to a wig stylist. "I'm very tight with Jamie Lee Curtis. I have talked to her most days and on this day I said, "Oh, there's this job I'm thinking of maybe doing," Grey told Entertainment Weekly. "And then I sent her a picture of the woman and I said, "But I told them I need good wigs."
"And she [Jamie Lee Curts] said, "Okay, I'm sending you a number right now. His name is Rob Pickens, and he did my wigs for Halloween. He's got a wig making atelier where they make them by hand, hair by hair, and you've got to call him as soon as you get off the phone with me," she continued. "And I said, 'I haven't closed my deal.' And she said, 'I don't care.' It takes a long time. This shoots in two weeks? You need to get a wig fitting today."
Grey explained that the styling of the wigs was eventually done by two different stylists. "So, I call him immediately. He said, 'Well, you need at least two wigs, probably four.' There was one wig where he said, 'We could repurpose Jamie's old wig from Halloween. We can use that as the base."
"So the first wig that I'm wearing [at the beginning of the movie] when Gwen is kind of like the church lady, that's Jamie's old wig from Halloween Ends. And then he then started making the other wigs. He measured my head with saran wrap and tape, and I've never done any of that stuff," she revealed. "I came in to try it on right before I left [for the shoot], and it was just like this waterfall of hair. He didn't want to cut it yet. Then they sent the wigs to Montreal and this woman named Lyne Lapiana, she's very, very good with wigs. She cut it and then she added extensions to it."