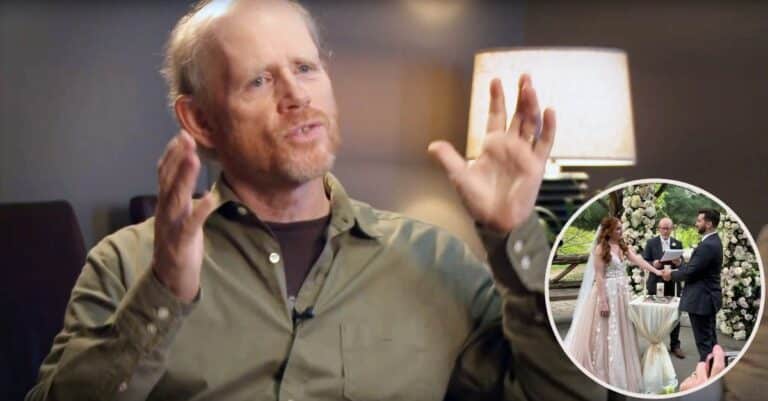 Ron Howard recently officiated his daughter Paige's wedding, and her sister Bryce Dallas Howard was a bridesmaid. Bryce shared some stunning photos from the big day to her Instagram account. "Congratulations to the newlywed couple @paigecarlylehoward & @timmyabou!! 🥰♥️" She writes in the caption.
"Although it took a whole pandemic to reach this special moment, I can't imagine a more perfect day celebrating you two. Tim, I am filled with gratitude and joy to call you my brother!!"
Ron Howard officiates daughter Paige's gorgeous wedding, check out the photos below
View this post on Instagram
Paige's wedding dress was custom-made and stunning, a blush bridal gown with lace applique. Bryce's bridesmaid dress was pale teal, accessorized with a floral crown of roses. The officiant, Ron Howard, looked handsome as ever in a dark grey suit. Bryce made sure to give a special shoutout to her father for officiating the wedding, saying, "And last but not least, let's give a round of applause for our incredible officiant @realronhoward 😉."
Ron also celebrated the big day on his own Instagram account with the sweetest message for his newlywed daughter. "Our Paigey looked like the flower goddess she truly is in one of the most beautiful gowns I have ever seen. Thank you for aligning your magic so perfectly with hers @heracouture ! Groom @timmyabou was looking great as well & it was an unparalleled highlight for me to officiate," he wrote.
View this post on Instagram
In addition to Bryce and Paige, Ron and his wife Cheryl also share two other children; son Reed, 35, and daughter Jocelyn, 37. Back in March on her father's 68th birthday, Bryce made sure to honor her father and show him how much he means to her, calling herself "the luckiest daughter in the world." She said, "It's @realronhoward's birthday!! 🥳 Daddio, you are a man of such great wisdom and generosity — I feel like the luckiest daughter in the world to have you as my dad… Happy Birthday!! 🎊 Love you so much 💛⁣."