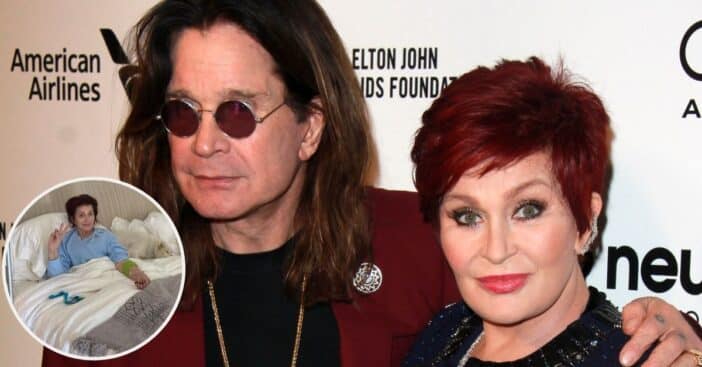 Sharon Osbourne has confirmed she has COVID-19, and has shared a photo of herself in bed hooked up to an IV. She seems to be in good spirits though, as much as she can be, holding up the peace sign. Three of her pets are also keeping her company as she rests.
In a video from The Talk UK posted to her Instagram, she revealed that both she and her daughter, Kelly Osbourne, both tested positive for COVID-19. Previously, rocker Ozzy Osbourne had tested positive for it as well. At the time, Sharon said of her husband, "He's doing much better. His temperature's now back to normal … He's doing much better."
Sharon Osbourne is battling COVID-19 a second time, hooked up to IV
View this post on Instagram
As for whether or not Ozzy will help nurse Sharon back to health, she joked, "Maybe. We'll see. I feel OK actually. I'm OK." Upon receiving news of Ozzy's diagnosis, she was understandably worried, as Ozzy struggles with health issues like Parkinson's disease. "I spoke to him and he's OK. I am very worried about Ozzy right now. We've gone two years without him catching COVID, and it's just Ozzy's luck he would get it now," she said at the time.
She continued, "It'll take me a week to get my old man back on his feet again, and I will be back [on the show] in a week… We're gonna get him a negative test by next week."
View this post on Instagram
Their son Jack Osbourne shared a funny update with fans, showing Ozzy asking about his Pomeranian named Rocky while FaceTiming Sharon over the weekend. "Update: Dad is on the mend and still FaceTiming the dogs 🤦🏻‍♂️ Thank you for all the love & support!" Jack captioned the funny video. This also isn't Sharon or Kelly's first time battling COVID. Sharon first tested positive in December 2020 while Kelly first tested positive at some point as well, along with two of Jack's daughters.