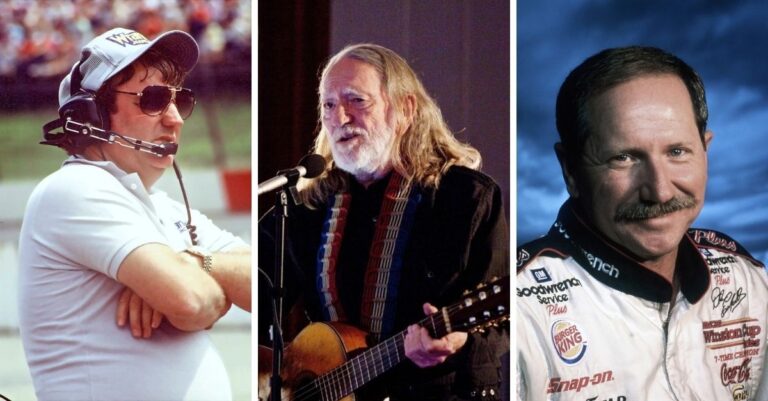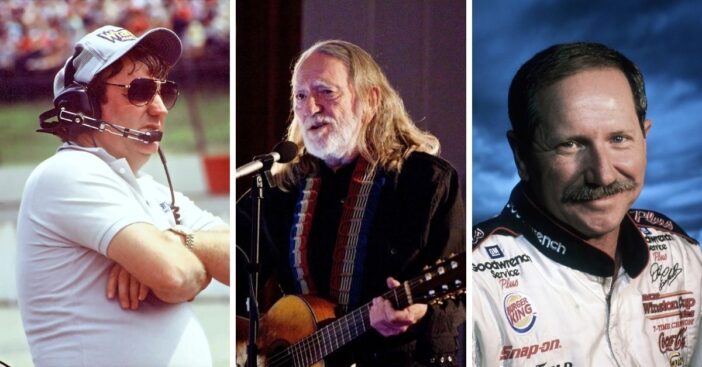 The 1980 Ad campaign promoting Wrangler Jeans featured car owner Richard Childress and his driver at the time, Dale Earnhardt, as well as country music icon Willie Nelson.
A fun thing to note is that Willie Nelson and Dale Earnhardt share the same birthday, April 29. Nelson celebrated his 89th birthday with a new album release called A Beautiful Time, while the late Dale would have been 71 years on the same day.
Winners Wear Wrangler
Dale Earnhardt was such a badass he once won at Talladega with a baked Willie Nelson munching on a bag of Doritos while riding shotgun. pic.twitter.com/CAHofCKlO3

— Super 70s Sports (@Super70sSports) January 28, 2018
The '80s ad was shot in San Francisco, where both icons came together with Dale actually driving Richard Childress to the campaign shoot. Richard commented on how the shoot went to Fox Sports: "I came in from hunting in British Columbia, and Dale and I ate at one of those really neat seafood restaurants there. We got up early the next morning for the photoshoot. Dale and I were sitting there waiting; I was expecting Willie to come out with a cowboy hat and everything."
To their surprise and amusement, "He came out with a baseball hat on and wearing a black Member's Only jacket. That was his disguise back in the day. So he jumps in the limo, and we shake hands. That was the first time I had met him. I'm not sure if it was for Dale…he sat over there and fired up a joint and started smoking on his joint. He leaned over to offer it to his fellow passengers, and Dale said, 'No, we're going to drink some whiskey later.' But that's the story behind that photoshoot right there. That's why he's smiling." he elaborated.
Shotgun Willie
From the way he arrived and through his efforts to spice up the shoot, it's fairly obvious that Willie is one exciting person. Let's face it: country music wouldn't be the same without Willie Nelson —the Outlaw Country King — something the Texas-born star has been proving since the release of his first album, Shotgun Willie, in 1973.
The ambassador to Weedville gave his first performance at age five and was so nervous that he picked at his nose to the point that it bled, earning himself the nickname "Booger Red." But that's only one of the fun things characterizing Willie Nelson's life, with others including  writing his first song at age seven as well as running into a burning house in 1969 to save his weed.
"By the time I got there, it was burning real good… but I had this pound of Colombian grass inside. I wasn't being brave running in there to get my dope — I was trying to keep the firemen from finding it and turning me over to the police," he explained to People.
Also important to note is that his guitar, Trigger, has been his pal for over 50 years, using that guitar in over 10,000 performances. "He's had a couple of problems. We've had to go in and do some work on the inside, build up the woodwork in there a little bit over the years. But Trigger's holding up pretty good," Nelson said about his instrument.
One could say the same thing about Willie Nelson.