The Hollywood star, Jane Fonda, has always maintained a banging body and has kept a younger look than her age in Hollywood. The actress who began her career in Hollywood in the '60s with There Was a Little Girl and Tall Story, has been active and has never taken a break from acting.
Growing up, the actress was always conscious of her body and being acceptable amongst her peers. Evidently, this stemmed from her binge eating disorder, Bulimia, which the actress suffered from as a child till her late forties. Moreover, the 'Youth' actress has been known to go under the knife in order to look good. She has done countless plastic surgeries to alter her body. Thankfully, at age 82, the actress decided to quit plastic surgery and focus on being healthy.
She says her body parts don't belong to her anymore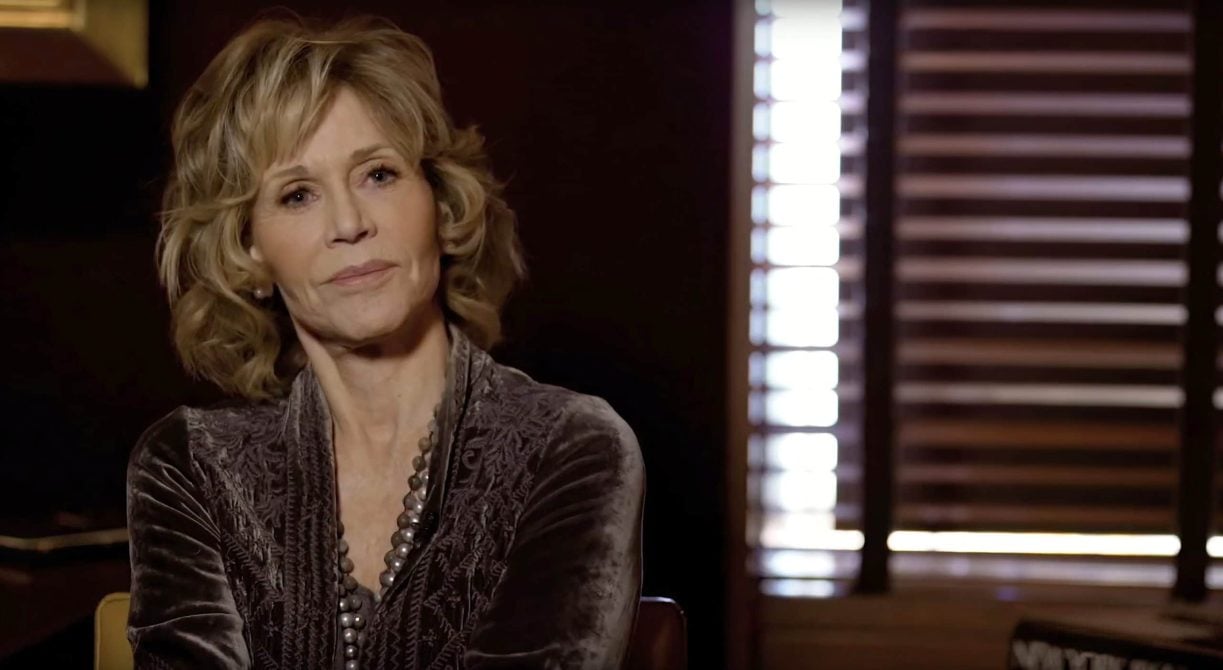 Nowadays, Jane Fonda only cares about how her body parts don't belong to her anymore. "What bothers me is that my body is, you know, basically not mine!. My knees are not mine; my hips are not mine; also my shoulder's not mine. You're looking at somebody who's only me from here up."
However, many people believe despite her age; she still has the best body for an older woman in the industry and all. Fonda always says, believe in yourself, give credit for how good you look, and don't care about what others say.
Alcoholic drinks were the norm for the beautiful actress until she grew older and noticed her body could no longer accept that she was still drinking alcohol. Even after one cup, she always staggers and becomes a mess by morning.

JANE FONDA'S YOGA EXERCISE WORKOUT, Jane Fonda, 1993. ph: ©A*Vision Entertainment / courtesy Everett Collection
In her best interest, she quit drinking, as it messed with her system badly. Fonda also likes men finding her attractive in her old age. She loves the fact men still woo her and feels it's good that she is still attractive to men despite being too old and close to the grave.
Is Jane Fonda Bothered about Death?
During the promotion of her Netflix series Grace and Frankie, Jane said though she always reminds herself about her being too old, it has never really kept her up all night. The beautiful actress believes she still looks like an older woman in her 60s than at age 84. Her age may be old, but her soul is still young and strong.
However, Fonda's fit body no longer used to function as it used to, and she knows her time is almost up on earth, but the Hollywood actress believes she is not too old and does not think it's time to call heaven soon. Jane has never cared about her old age, and the fact that she can cross to the other side at any moment doesn't matter to her.
View this post on Instagram
Jane Fonda is a well-known feminist and has been an activist since the late '60s. She has been advocating for equality and social justice, and it was an inspiration she got while being pregnant with her first child. Fonda is still active in Hollywood, and she just finished the movie Moving On. She is active, healthy, and working, even though she can no longer engage in some sports like skiing, riding a bike, and running.