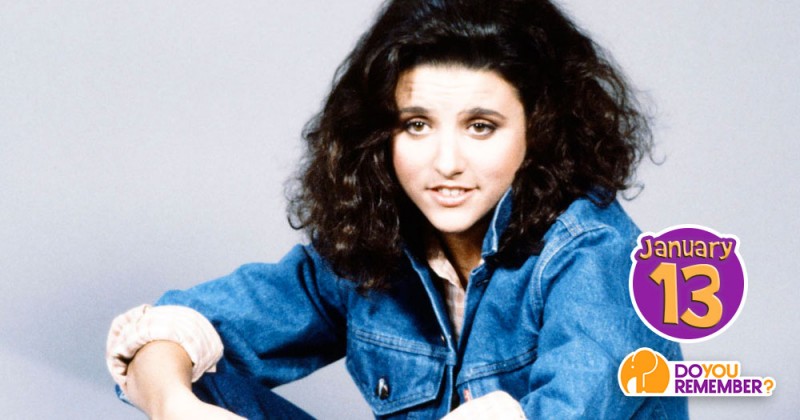 "Born Today"
Liam Hemsworth (27)

Julian Morris (34)

William Hung (34)

Ginger Zee (36)

Jill Wagner (38)

Orlando Bloom (40)

Ross McCall (41)

Michael Pena (41)

Nicole Eggert (45)

Atoosa Rubenstein (45)

Shonda Rhimes (47)

Traci Bingham (49)

Patrick Dempsey (51)

Bill Bailey (53)

Penelope Ann Miller (53)

Trace Adkins (55)

Julia Louis-Dreyfus (56) Featured Image

Matthew Bourne (57)

Jay Mcinerney (62)

Richard Moll (74)

Nick Clooney (83)

Rip Taylor (83)

Frances Sternhagen (87)
"Died Today"
James Joyce (Born: February 2, 1882 / Died: January 13, 1941)

Joe Spinell (Born: October 28, 1936 / Died: January 13, 1989)
"Movies"
"Music"
1962 – Chubby Checker was #1 with the single "The Twist"

1962  – Elvis started a six week run on the Adult Contemporary chart with "Can't Help Falling In Love"

1968 – The Beatles' "Hello Goodbye" was #1 on the charts
1973 – "You're So Vain" by Carly Simon was #1

1973 – "Been to Canaan" by Carole King was #1 on the Adult chart

1979 – Bee Gees were #1 with the single "Too Much Heaven"
1986 – Janet Jackson's "What Have You Done for Me Lately" was released

1990 – Milli Vanilli had the #1 album with their album

Girl You Know It's True

1990 – "Another Day In Paradise" by Phil Collins was the #1 song

1996 –

Daydream

by Mariah Carey was the top album

1996 – Mariah Carey and Boyz II Men dominated the charts with the hit "One Sweet Day"
"TV/Radio"
1906 – Hugh Gernsback, of the Electro Importing Company, advertised radio receivers for sale for the price of just $7.50 in "Scientific American" magazine.

1928 – Ernst F. W. Alexanderson gave the first public demonstration of television.

1939 – The animated short

Donald's Lucky Day

released
https://youtu.be/r_NZTce4JXE
1966 – Elizabeth Montgomery's character, Samantha, on "Bewitched," had a baby. The baby's name was Tabitha.

1998 – NBC agreed to pay almost $13 million for each episode of the TV show E.R. It was the highest amount ever paid for a TV show.

1998 – ABC and ESPN negotiated to keep "Monday Night Football" for $1.15 billion a season.

1998 – One of the 110 missing episodes of the British TV show "Doctor Who" was found in New Zealand.
"Other Important Events…"
1794 – U.S. President Washington approved a measure adding two stars and two stripes to the American flag, following the admission of Vermont and Kentucky to the union.
1942 – Henry Ford patented the plastic automobile referred to as the "Soybean Car." The car was 30% lighter than the average car.
1966 – Robert C. Weaver became the first black Cabinet member when he was appointed Secretary of Housing and Urban Development by U.S. President Johnson.
1984 – Wayne Gretzky extended his NHL consecutive scoring streak to 45 games.
1986 – "The Wall Street Journal" printed a real picture on its front page. The journal had not done this in nearly 10 years. The story was about artist, O. Winston Link and featured one of his works.
1990 – L. Douglas Wilder of Virginia, the nation's first elected black governor, took the oath of office in Richmond.
1997 – Debbie Reynolds received a star on the Hollywood Walk of Fame.
1999 – Michael Jordan (Chicago Bulls) announced his retirement from the NBA.
2002 – The exhibit "In the Spirit of Martin: The Living Legacy of Dr. Martin Luther King, Jr." opened at the Charles H. Wright Museum of African American History. More than 100 artists supplied the collection of 120 works of art.