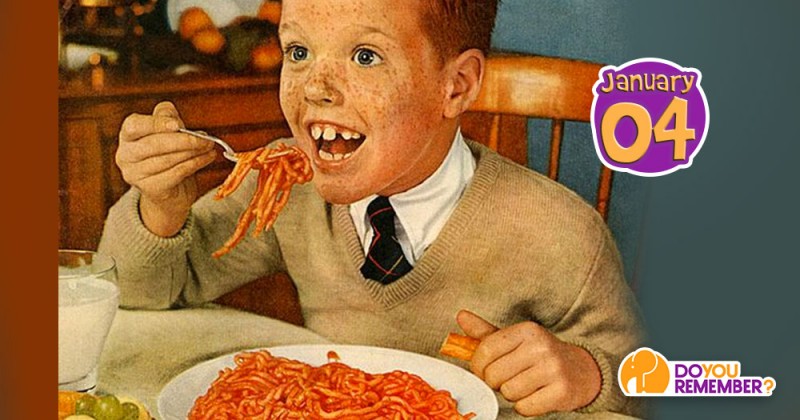 "Born Today"
Charlyne Yi (31)

Erin Cahill (37)

Jeannie Mai (38)

Graham Elliot (40)

Jill Marie Jones (42)

Harmony Korine (44)

Patrice Lovely (49)

Julia Ormond (52)

Beth Gibbons (52)

Yvan Attal (52)

Dot Jones (53)

Dave Foley (54)

Till Lindemann (54)

Patrick Cassidy (55)

Michael Stipe (57)

Ann Magnuson (61)

Tina Knowles (63)

Grace Bumbry (80)

Dyan Cannon (80)

Vanity (RIP)

Louis Braille (RIP)

Isaac Newton (RIP)
"Died Today"
T.S. Eliot (Born: September 26, 1888 / Died: January 4, 1965)

Peggy Bacon (Born: May 2, 1895 / Died: January 4, 1987)

Jake Hess (Born: December 24, 1927 / Died: January 4, 2004)
"Music"
1963 – "Blame It on the Bossa Nova" was released

1964 – Bobby Vinton had the #1 song with "There! I've Said It Again"
1967 – The Doors released their self-titled debut album

1969 – Marvin Gaye had the #1 song with "I Heard It Through the Grapevine"

1986 – "Say You, Say Me" by Lionel Richie was the #1 song
1986 – The soundtrack for

Miami Vice

was the top album

1992 – "Black or White" by Michael Jackson was the #1 song

1992 – Richard Marx had the top Adult Contemporary song with "Keep Coming Back"
1997 – No Doubt's album

Tragic Kingdom

topped the Billboard 200 chart
"TV/Radio"
1936 – The cartoon Mickey's Polo Team was released

1952 – The Goofy short film Father's Lion premiered

1957 – Former heavyweight boxing champ Joe Louis appeared on "The Steve Allen Show" to introduce singer Solomon Burke. Burke performed Louis' "You Can Run, but You Can't Hide."

1961 – The first episode of "Mr. Ed" aired on CBS.
www.youtube.com/watch?v=y_PZPpWTRTU
1965 – The Fender Guitar Company was sold to CBS for $13 million.

1974 – NBC-TV presented hockey in prime time. The Boston Bruins and the New York Rangers were the teams in the National Hockey League (NHL) game.

1977 – Mary Shane was hired by the Chicago White Sox as the first woman TV play-by-play announcer.

1982 – Bryant Gumbel moved from NBC Sports to the anchor desk where he joined Jane Pauley as co-host of the "Today" show on NBC.
1984 – The first episode of "

Night Court

" aired on NBC.
"Other Important Events…"
It's National Spaghetti Day!

1957 –

Collier's

magazine had its last publication

1958 – The Soviet Union satellite

Sputnik I

fell to the Earth from orbiting it since October 4, 1957