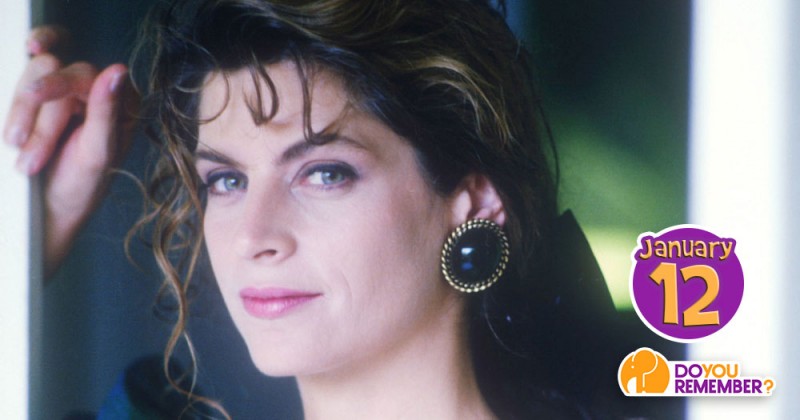 "Born Today"
Pixie Lott (26)

Naya Rivera (30)

Deena Nicole Cortese (30)

Shawn Desman (35)

Amerie (37)

Jeremy Camp (39)

Melanie "Sporty Spice" C (43)

Raekwon (47)

Rachael Harris (49)

Heather Mills (49)

Rob Zombie (52)

John Bezos (53)

Simon Russell Beale (56)

Oliver Platt (57)

Christiane Amanpour (59)

John Lasseter (60)

Howard Stern (63)

Kirstie Alley (66)

Rush Limbaugh (66)

Wayne Wang (68)

Texas Guinan (RIP)

Joe Frazier (RIP)

Tim Horton (RIP)
"Died Today"
Agatha Christie (Born: September 15, 1890 / Died: January 12, 1976)

Maurice Gibbs (Born: December 22, 1949 / Died: January 12, 2003)
"Movies"
"Music"
1963 – "Go Away Little Girl" by Steve Lawrence was the #1 song

1968 – Manfred Mann released the song "Mighty Quinn"

1969 – Led Zeppelin released their debut self-titled album

1970 – Badfinger released the single "Come and Get It"
1974 – "The Joker" by The Steve Miller Band was the #1 song

1980 – Rupert Holmes had the #1 song with the single "Escape (The Pina Colada Song)"

1980 – "Send One Your Love" by Stevie Wonder was #1 on the Adult Contemporary chart

1985 – Prince and the Revolution had the #1 album with

Purple Rain

1985 – "Like A Virgin" remained the #song

1989 – The duo Roxette released their single "The Look"
"TV/Radio"
1926 –

Sam 'n' Henry

premiered on the Chicago radio station WGN

1949 – "Arthur Godfrey and His Friends" was debuted on CBS-TV. The show stayed on the network for seven years.

1949 – "Kukla, Fran and Ollie", the Chicago-based children's show, made its national debut on NBC-TV.

1955 – Rod Serling's career began with the TV production of "Patterns."

1966 – "Batman" debuted on ABC-TV.
1967 – "Dragnet" returned to NBC-TV after being off the network schedule for eight years.

1971 – "All In the Family" debuted on CBS-TV.
"Other Important Events…"
1773 – The first public museum in America was established in Charleston,

SC

.

1896 – At Davidson College, several students took x-ray photographs. They created the first X-ray photographs to be made in America.

1904 – Henry Ford set a new land speed record when he reached 91.37 miles per hour.

1908 – A wireless message was sent long-distance for the first time from the Eiffel Tower in Paris.

1915 – The

U.S.

Congress established the Rocky Mountain National Park.

1948 – The

U.S.

Supreme Court ruled that states could not discriminate against law-school applicants because of race.

1966 –

U.S. President Johnson

said in his State of the Union address that the United States should stay in South Vietnam until Communist aggression there was ended.

1986 – Space shuttle

Columbia

blasted off with a crew that included the first Hispanic-American in space, Dr. Franklin R. Chang-Diaz.

1998 – Linda Tripp provided Independent Counsel Kenneth Starr's office with taped conversations between herself and former White House intern Monica Lewinsky.

1999 – Mark McGwire's 70th home run ball was sold at auction in New York for $3 million to an anonymous bidder.

2005 – NASA launched "Deep Impact". The spacecraft was planned to impact on Comet Tempel 1 after a six-month, 268 million-mile journey.