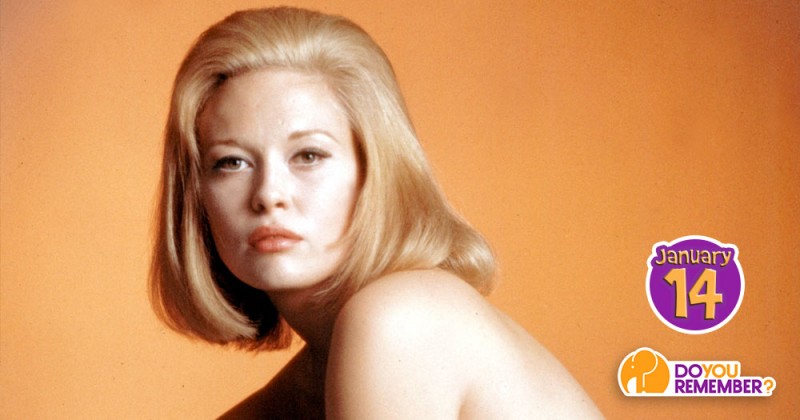 Birthday
Grant Gustin (27)

Emma Greenwell (28)

Frankie Sandford (28)

Mikalah Gordon (29)

Caleb Followill (35)

Zach Gilford (35)

Angela Lindvall (38)

Karen Elson (38)

Kevin Durand (43)

Jason Bateman (48)

Dave Grohl (48)

LL Cool J (49)

Emily Watson (50)

Zakk Wylde (50)

Dan Schneider (51)

Slick Rick (52)

Mark Addy (53)

Shepard Smith (53)

Jim Duggan (63)

Evelyn Braxton (69)

T-Bone Burnett (69)

Carl Weathers (69)

Holland Taylor (74)

Faye Dunaway (76)

Trevor Nunn (77)

Jack Jones (79)

Guy Williams (RIP)
Death Ann.
Alan Rickman (Born: February 21, 1946 / Died: January 14, 2016)

Humphrey Bogart (Born: December 25, 1899 / Died: January 14, 1957)

Donna Reed (Born: January 27, 1921 / Died: January 14, 1986)

Shelley Winters (Born: August 18, 1920 / Died: January 14, 2006)

Peter Finch (Born: September 28, 1916 / Died: January 14, 1977)

Ricardo Montalban (Born: November 25, 1920 / Died: January 14, 2009)

Conrad Bain (Born: February 4, 1923 / Died: January 14, 2013)
Movies
Music
1956 –  Listeners became aware of a new talent who debuted on the chart on this date with his first single–"Tutti Frutti".  And Little Richard's career was born.

1961 – Elvis Presley's 'GI Blues' started a seven-week run at No.1 on the UK chart. Also on this day Elvis was promoted to Acting-Sergeant in the US Army, receiving a pay increase of $22.94 per month.

1963 – Skeeter Davis released her single "The End Of The World".
1963 – Charlie Watts made his live debut with The Rolling Stones at The Flamingo Jazz Club, Soho, London.

1966 – David Jones changed his name to David Bowie to avoid confusion with Davy Jones from The Monkees, just in time for the release of his single, 'Can't Help Thinking About Me'.

1967 – An amazing group was introduced on this date as the 5th Dimension charted with their first career single–"Go Where You Wanna' Go".

1970 – Diana Ross made her last appearance with The Supremes at The Frontier Hotel, Las Vegas. During the show, Diana introduced her replacement, Jean Terrell, who would lead the group to seven more Top 40 hits.

1971 – The Temptations released the single "Just My Imagination (Running Away With Me)".

1977 – David Bowie released his eleventh studio album Low, the first of three collaborations with Brian Eno termed the "Berlin Trilogy".

1978 – The Sex Pistols played their last show at the Winterland Ballroom in San Francisco where Johnny Rotten yelled to the crowd at the outset, "Ever get the feeling you've been cheated." It was the last time the band played with bassist Sid Vicious.

1984 – Paul McCartney was at No.1 on the UK singles chart with 'Pipes Of Peace.' With this release McCartney made chart history by becoming the first artist to have a No.1 in a group, (The Beatles), in a duo, (with Stevie Wonder) in a trio, (with Wings) and as a solo artist.

1984 – Kool & the Gang took over at #1 on the R&B chart with "Joanna".
1985 – REO Speedwagon released the single "Can't Fight This Feeling".

1985 – Survivor released the single "High On You".

1989 – Paul McCartney released the album Back in the U.S.S.R. exclusively in Russia.

1989 – Karyn White wasn't "Superwoman", but her song was, and it was the new #1 on the R&B chart.
1989 – Phil Collins registered a fourth week at #1 on the Adult Contemporary chart with "Two Hearts".

1996 – Oasis went to No.1 on the UK album chart with '(What's The Story) Morning Glory', the group's second UK No.1 spent a total of 145 week's on the chart.
TV & Radio
1939 – "Honolulu Bound" was heard on CBS radio for the first time.

1952 – NBC's "Today" show premiered.

1972 – NBC-TV debuted "Sanford & Son."
1985 – Former Miss America, Phyllis George, joined Bill Kurtis as host of "The CBS Morning News".

1993 – Television talk show host David Letterman announced he was moving from NBC to CBS.

2002 – NBC's "Today" celebrated its 50th anniversary on television.
Other Events
1943 –

U.S. President Franklin D. Roosevelt

became the first U.S. President to fly in an airplane while in office. He flew from Miami,

FL

, to French Morocco where he met with British Prime Minister Winston Churchill to discuss World War II.

1951 – The first

National Football League

Pro Bowl All-Star Game was played in Los Angeles,

CA

.

1954 – Marilyn Monroe and Joe DiMaggio were married. The marriage only lasted nine months.

1954 – The Hudson Motor Car Company merged with Nash-Kelvinator. The new company was called the American Motors Corporation.

1973 – The Miami Dolphins defeated the Washington Redskins in Super Bowl VII and became the first

NFL

team to go undefeated in a season.

1985 – Martina Navratilova won her 100th tournament. She joined Jimmy Connors and Chris Evert Lloyd as the only professional tennis players to win 100 tournaments.

1986 – "Rambo: First Blood, Part II" arrived at video stores. It broke the record set by "Ghostbusters", for first day orders. 435,000 copies of the video were sold.

1999 – The impeachment trial of

U.S. President Clinton

began in Washington,

DC

.