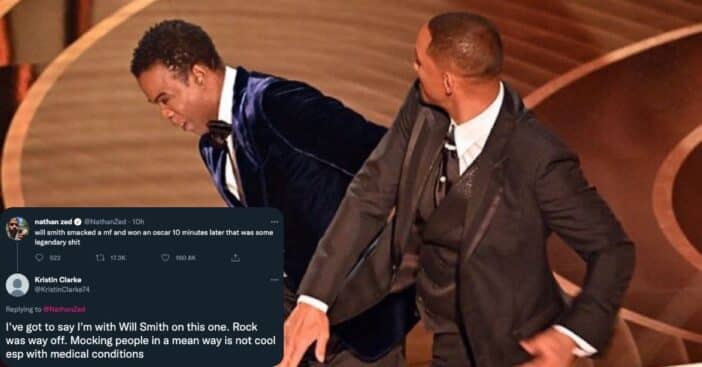 Even if you weren't watching the Oscars last night, you know that there was quite the showdown that went on between Will Smith and Chris Rock. During Rock's presentation of an award, he seemingly made a joke about Smith's wife, Jada Pinkett Smith, which prompted Smith to climb up onstage and smack Rock across the face before going to sit back down.
"Wow. Will Smith just smacked the s— out of me," Rock said afterwards, which prompted Smith to show he was not playing games. "Keep my wife's name out your f— mouth!" Smith screamed back from his seat twice.
Was Will Smith slapping Chris Rock justified at all? The Internet debates
The joke that Rock made was about Jada's appearance, as he said he was looking forward to seeing her in 1997's G.I. Jane film starring Demi Moore. The leading character in the film joined the armed forces, requiring her to shave her head, and Jada struggles with alopecia, something she's allegedly super self-conscious about. In that case, a lot of people felt the slap was deserved. Others believe there's no room for violence whatsoever, regardless of the situation.
I still can't get over the fact that there isn't even 30 seconds between these two emotions.

No wonder Will Smith won an #Oscar pic.twitter.com/uSkZI3mLmd

— BEING TIGER 3 (@BeingSalmanOO7) March 28, 2022
"The fact that Will Smith wasn't kicked out of the Oscars and arrested for assaulting Chris Rock shows how Hollywood allows, enables, and celebrates the very worst behaviors," media analyst Mark Dice writes, adding, "Workplace violence isn't tolerated in normal industries."
Actor Mark Hamill chimed in as well, saying, "Stand-up comics are very adept at handling hecklers. Violent physical assault… not so much. #UgliestOscarMoment_Ever"
Others feel it may have been totally justified. "I feel sorry for Will Smith. Yall gon clown him but what would you do if your wife is unhappy with what a man said about something thats making her insecure?" Another writes, "I've got to say I'm with Will Smith on this one. Rock was way off. Mocking people in a mean way is not cool esp with medical conditions."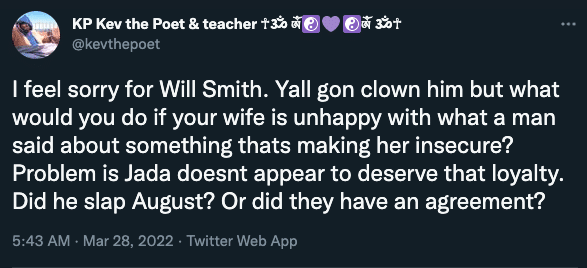 Smith later accepted his award for Best Actor for his role in King Richard, beginning his speech by saying, "King Richard was a defender of his family." Rock seemed pretty unphased by all of it, called the "greatest night in the history of television." He later declined to press charges against Smith. The Academy of Motion Picture Arts and Sciences also put out a statement following the altercation, saying, "The Academy does not condone violence of any form. Tonight we are delighted to celebrate our 94th Academy Awards winners, who deserve this moment of recognition from their peers and movie lovers around the world."