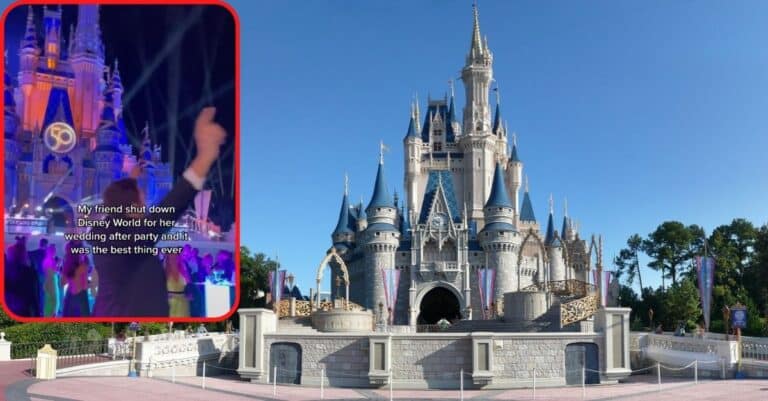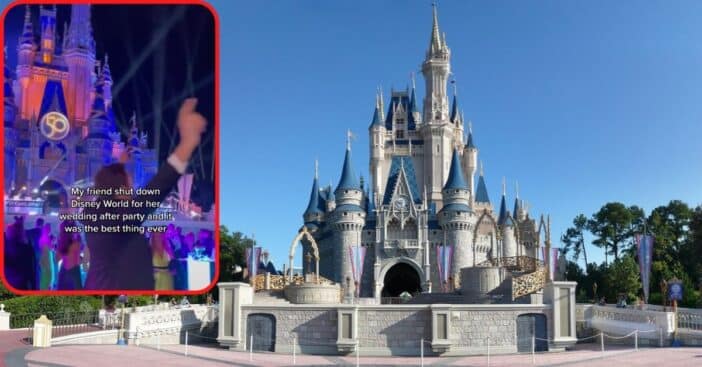 An entire Disney park closed down due to just one guest. This happens often, where celebrities rent out entire theme parks to themselves, but in this case, it's not a celebrity—it's a newly-married couple!
One couple decided to shut down the entire Magic Kingdom park after getting married in Walt Disney World, and wanted to have the after-party in a huge theme park all to themselves (and, of course, their friends and family, too).
Newly married couple shuts down Disney Park for their wedding afterparty
One of the couple's friends posted a video to TikTok, showcasing via video how the day went. "My friend shut down Disney World for her wedding after party and it was the best thing ever," the caption on the video reads. The video itself shows everyone in their formal attire, walking around the park at night with their mouse ears on, exploring the sights, the sounds, the food, the rides, everything there is to love about Magic Kingdom!
Even some of the characters were walking around and having a great time with the afterparty, including Chip & Dale!
If you're now thinking about throwing a wedding or wedding afterparty at Disney, you're in luck, because Disney has its own website specifically for booking your fairytale Disney wedding right here. "No matter your vision, we have a venue to match—from outdoor gardens, waterside vistas, castle courtyards and so much more!" They write on their website. The website is full of photos and helpful information for those who wish to throw the best and most exciting wedding of the year.