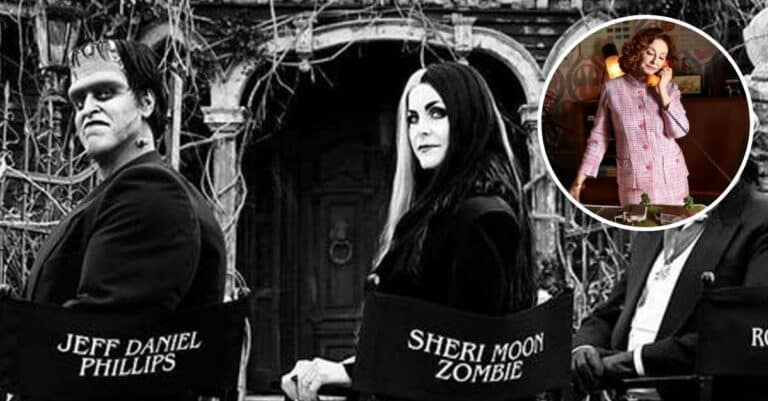 Elvira is officially being cast in The Munsters reboot by Rob Zombie, and we're getting a first look from the creator himself. However, Miss Cassandra Peterson doesn't look like the Mistress of the Dark that we all know and love—in this reboot, she takes on the role of Barbara Carr, "#1 real estate agent in all of Mockingbird Heights," as reported directly from Zombie himself.
In the photo posted to Zombie's Instagram account, Peterson is sporting curled red hair and a smart pink suit, rather sophisticated and colorful in comparison to her dark and sexy Elvira.
Cassandra Peterson, aka Elvira, will be in 'The Munsters' reboot
View this post on Instagram
Peterson achieved peak fame when she went on to star in the feature film release Elvira, Mistress of the Dark in 1988, and she's since become a gothic pop culture icon. She starred in another feature film some years later, 2001's Elvira's Haunted Hills, and her character has appeared throughout the years on SNL, The Grammy Awards, and RuPaul's Drag Race as well. Elvira also appeared on Netflix last October for the mini-series Netflix and Chills.
In an article from Entertainment Weekly, Peterson once said that if she never became the stunning and recognizable Elvira, then Elvira would've never been a thing—and that we have Elvis to thank for bringing her to us. "I was 17 when I started as a showgirl in Las Vegas — Elvis came to see my show — he convinced me that this was no town for a young girl to be in, by herself, and that it would not lead to bigger and better things, that if I really wanted to make it in show business that I needed to get the Hell out of Vegas. So, I always say to people, I started out as the youngest showgirl in Vegas and, if it wasn't for Elvis, I would now be the oldest showgirl."
The Munsters reboot is currently being filed with occasional leaks from Zombie himself onto his Instagram account. The cast will consist of Herman Munster being played by Jeff Daniel Phillips, Lily Munster being played by Sheri Moon Zombie, and Daniel Roebuck will be taking on the role of Grandpa Munster.