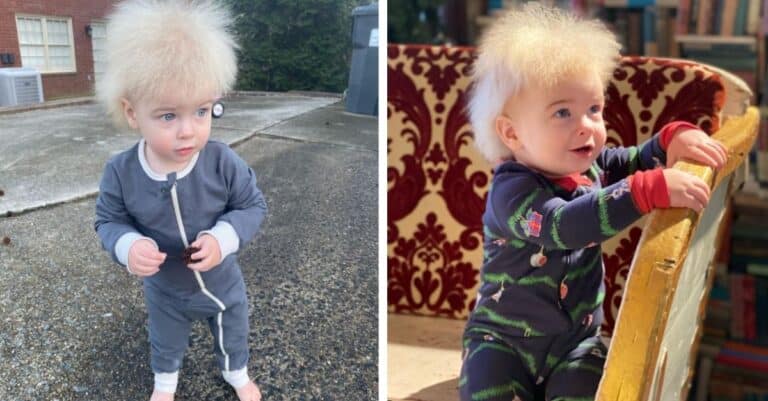 Locklan Samples is capturing the hearts of people all across the Internet with his hair as he has uncombable hair syndrome. The syndrome is exactly what it sounds like—such crazy hair that it's rendered completely uncombable. So of course, mom Katelyn Samples was pretty worried when she first realized there was something different about her son.
"At first, you see 'syndrome' and you're like, 'Oh my gosh,' like, is something wrong with my baby? Is he in pain or something?" She told Good Morning America. She began searching on Google and called her pediatrician, who told her they had never even heard of that syndrome before, so they referred her to a pediatric dermatologist instead.
Boy with uncombable hair syndrome is the most adorable thing on the Internet right now
View this post on Instagram
Dr. Carol Cheng, a pediatric dermatologist at UCLA Health, opens up more about the rarely-heard-of-syndrome. "When you look under the microscope, you can see that instead of having hairs that are cylinder shape … the shaft of the hair is actually more in a triangular shape," she says.
"Within the triangle, there [are] these little grooves that go up and down the long axis of the hair shaft, so that's why it makes it really uncombable."
View this post on Instagram
According to the National Institutes of Health, there are only 100 known cases and no definitive treatment for the disorder. However, the condition may improve on its own once puberty begins. "It can get matted easily. It is very fragile," Samples says of her son's hair. "It can get tangled and I do have to be careful. That would be an example of a time I actually would wash it because I very rarely wash his hair. Just doesn't need to be. It doesn't really get greasy."
Since she's found that both Google and her own pediatrician are not too much help, she's found comfort in a Facebook group dedicated to UHS, where people can exchange information on hairstyles, products, and care and provide support to one another.
View this post on Instagram
Following her son's diagnosis, Samples followed her husband's advice and launched @uncombable_locks, an Instagram account dedicated to Locklan's stupidly adorable, uncombable hair. And people are just loving it. One person commented, "I love him so much!!! I would love to see all the other kids in a pic together that have UHS." Another user writes, "Loving his fuzz top and mullet in the back. Shall we just say he's rocker chic?"