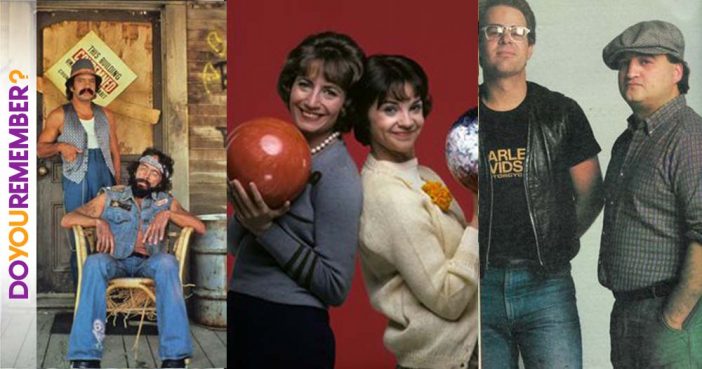 11. Burns & Allen
This husband-and-wife team had an enormously popular radio and TV show in the 50s. Gracie played the ditzy wife; it wasn't exactly clear who the real brains were in this pairing.
12. Lucy & Ethel
While their husbands were away, these best friends got themselves into more jams and fixes that any two women ever did. Their brief stint working at a candy factory is one of TV's all-time funniest routines.
13. Laverne & Shirley
Another pair of best friends, these two took on the Midwest in the 50s with a cockeyed optimism. And they were pals with the Fonz.
14. Lemmon & Matthau
Two classic actors grew old together with a series of very funny movies. Being a crotchety old man never looked so good.
15. Gene Wilder & Richard Pryor
From Silver Streak to Stir Crazy, these stars worked some of their funniest bits together. Not to mention one of the funniest movies of the 1970's in Blazing Saddles!
16. Mel Brooks & Carl Reiner
TV legends in their own rights, when they performed their 2,000 Year Old Man comedic history was made. Download it. Now!
17. Hope & Crosby
Bob Hope, the fast-talking wisecracker, and Bing Crosby, the smoothest crooner ever, were box-office boffo with their Road to series.
18. Tim Conway & Harvey Korman
As if watching Carol Burnett do sketch comedy wasn't enough, these two were much more than just co-stars of her TV show. Who laughed more the audience or this pair?
19. Trey Parker & Matt Stone
Breaking all the rules and we mean all of them this duo turned animation on its ear with South Park, and then took on Broadway with the hysterical Book of Mormon.
20. Stiller & Meara
Ben Stiller's parents were a dynamite husband-and-wife team that brought the funny to middle age. No wonder George Costanza was so screwed up.
Who was your favorite Comedian Team? Share your feedback in the comment section below. And if you LIKE this story, please SHARE this story with your Facebook friends and family!
Related:
11 Worst TV Shows From The Past
10 Sitcom Couples Who Were Married In Real Life