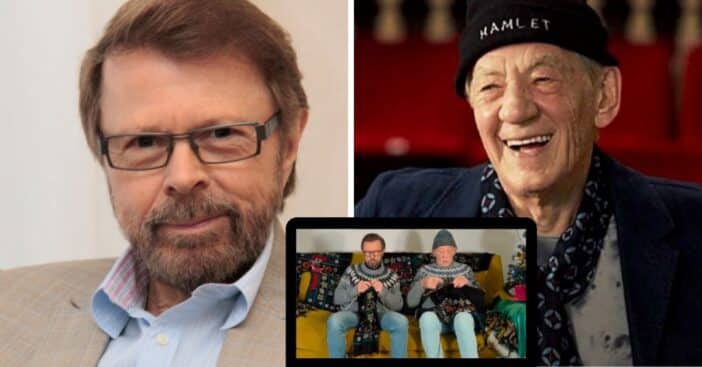 Ian McKellen—known for playing Gandalf in the Lord of the Rings series—has teamed up with ABBA's Björn Ulvaeus to knit some Christmas sweaters. The adorable video was posted to ABBA's social media, showing the two men sitting side by side as they knit together. Pretty wholesome, actually.
They both can be seen knitting away on some ABBA-themed sweaters while also wearing matching outfits themselves. It's a mostly silent clip between the two, and at the end, a still comes up that reads, "Merry Christmas from Abba and Ian McKellen."
Ian McKellen and Björn Ulvaeus flex their knitting skills
View this post on Instagram
McKellen also reposted the clip to his social media, calling it "the most exciting (mostly) silent clip you'll see this holiday season." Many of McKellen's fans were so delighted to see the unexpected collaboration between the two.
RELATED: The Reviews Are In For ABBA's New Music: 'No Thanks'
"How did this come about? I was laughing my head off watching this," one fan writes. Another says, "Love the way you both keep looking to see how far you both got… just brilliant."
Some fans loves it, others critiqued McKellen's knitting abilities
View this post on Instagram
However, another fan wasn't too thrilled by McKellen's knitting skills… "Proof he's a good actor, because that's not quite knitting."
The video was made to promote the Christmas merchandise being sold by ABBA in light of their newest album Voyage. They're selling a 'Little Things Knitted Jumper' for £80 ($106.92 USD) and they are selling a children's version of it as well. There are also festive-themed hats and scarves available to buy on their website as well.
RELATED: ABBA Tragically Ended After This Happened