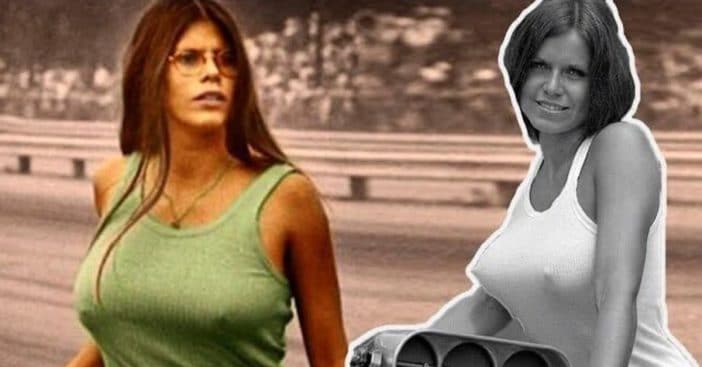 *FAQs at the bottom of article*
UPDATED 2/8/2023
The world of funny car drag racing is definitely… unique. The sport is characterized by the fastest cars, some crazy stunts, and pretty women. Basically the inception of the wildly popular film franchise of Fast and Furious. But they were breaking the speedometer decades before Dom and company took to the streets of LA.
And no one personified the world of funny car drag, better than Jungle Jim and Jungle Pam, the fastest, hottest duo on and off the strip. Jungle Jim's racing skills qualified them to get on the strip, but it was perhaps Jungle Pam's stark beauty and sex appeal that helped propel them to the top spot in the sport. But how did their paths originally cross? Was it fate or a lucky coincidence? Let's find out! Now, let's peel on out of here, back to the world of funny car drag racing. Let's roll. 
Jungle Jim
It's called 'funny car drag racing' because the cars are built in unique shapes and forms. But don't be mistaken, speed and car handling skills are still the main points of the shows. But to keep fans interested there was also a performative aspect. A little bit like professional wrestling. The drivers were very showy individuals. And women like Jungle Pam highlighted the necessary 'sex appeal' that kept people showing up every week to catch a glimpse of her, and of course to see Jungle Jim's epic burnouts. 
RELATED: Vintage Photos Show What Was "Cool" In The 1970s
Russell James Liberman is better known as "Jungle Jim" was a star on the funny car racing circuit. He started drag racing after dropping out of high school, already being the hometown hero in the drag racing world. One person said quote: "Jim was the king, a hard-ass racer and a great showman!" Makes me think of Rebel Without a Cause a bit. Jungle Jim was a very talented driver and made a name for himself in the sport. He was known for his backward driving skills and of course those epic burnouts! Do you remember Jungle Jim's blue Vega? That was a gorgeous ride.
Jungle Pam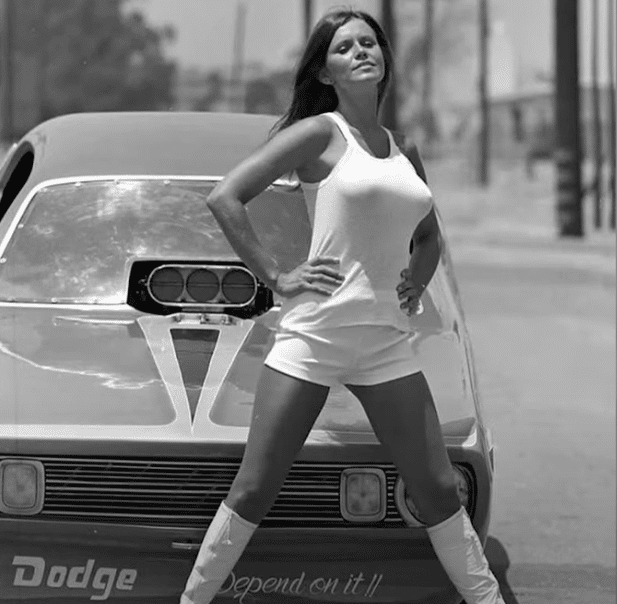 Pamela  Hardy also known as "Jungle Pam" was known as the drag racing bombshell. She wasn't a car driver herself, but she exuded a passion for the sport and you could tell. She was always ensuring the car was properly lined up, and doing all she could to help Jim win from out of the driver's seat. And it didn't hurt that she was absolutely stunning. She became one of the most influential figures in the world of funny car racing. But how did the two actually meet?
An Unusual Partnership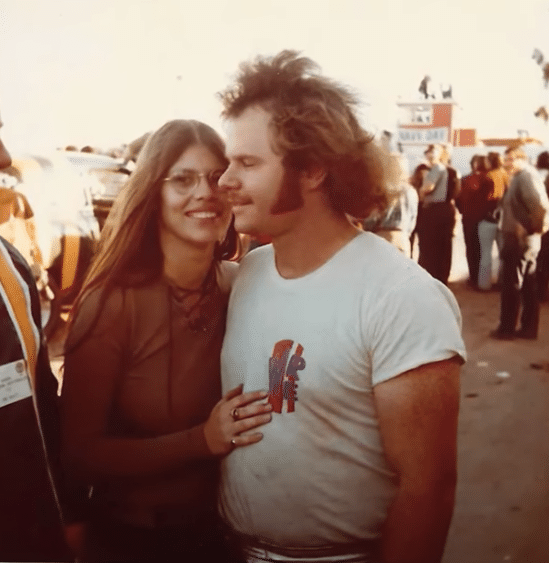 Jim had been driving around their hometown of West Chester, Pennsylvania one May evening in his yellow '72 Corvette, when he spotted Pam walking to the mall. He thought she was gorgeous and invited her to a party. Pam was only eighteen at the time and about to graduate from high school. Jim told her all about his life as a drag car racer and she was intrigued. She had never heard of the sport before. She asked Jim if she could accompany him to his next event, and he was smitten that she was taking an interest. Pam was mystified by the spectacle she witnessed. The colorful people, and the even more vibrantly painted cars, built in ways that she had never seen before. 
Pam fast became a member of Jungle Jim's racing team and decided to drop out of college to do so, which obviously caused a lot of tension between Pam and her mother. Pam had been accepted into West Chester State and had planned to study business, and her mother didn't approve of the funny car lifestyle, but two did mend the relationship later in life. Pam's initial job was to place Jungle Jim's car on the starting line and she did this with great flair. Always wearing the hippest and usually rather skimpy outfits while doing so. But Pam wasn't content to sit by and just be the drag racing bombshell. No, she learned everything she could about funny cars and the sport. And with the skilled Jungle Jim as her teacher, Pam quickly learned the ropes.
She was soon given more responsibilities and was tasked with checking underneath the cars while they were on the start line, ensuring everything looks good for a blistering race. She also packed the parachute and made sure the engine was in proper condition, with enough oil and so forth.
Pam soon established a trademark look – a revealing top with no bra. Pam was blessed with a large bosom and she certainly knew how to flaunt it. Maybe that's why Jim slammed on the brakes all those years ago. Pam stated that she didn't wear a bra simply because they weren't comfortable. And those revealing clothes were key to keeping cool on the hot asphalt. But of course, Jungle Pam was no fool and knew full-well what her outfits were doing for the publicity of Jungle Jim's team and the sport in general. Soon, people were attending these drag racing events in order to spot the infamous Jungle Pam. And it catapulted Jungle Jim to the front of the pack.
But Pam didn't let the spotlight get to her head, and she didn't fully realize how popular she was. One day she and Jim were at the airport trying to catch a flight and a fan spotted them and raced up to Pam asking her for an autograph. And to Pam's surprise, it was her own face looking back at her, championing the cover of the racing magazine. She was shocked, That was the moment she realized that she had become a sex symbol that was beginning to define a decade. Does anyone else remember flipping through Hot Rod hoping there was a photo of Jungle Pam? 
Even though Jungle Jim and Jungle Pam were arguably the most famous couple to grace the funny car drag scene, they still weren't making a ton of money. The sport was too niche to rake it in, and sponsorship deals were not very lucrative. The couple barely made enough money to cover rent for their home. And the two had some rough times as well. Jim wasn't always faithful to Pam. But they continued patching things up because Pam wanted to spend the rest of her life with her high-speed Jungle Partner. 
Jungle Jim even planned to retire from drag racing and open his own engine repair shop, but sadly, this never happened due to unforeseen circumstances… 
The Crash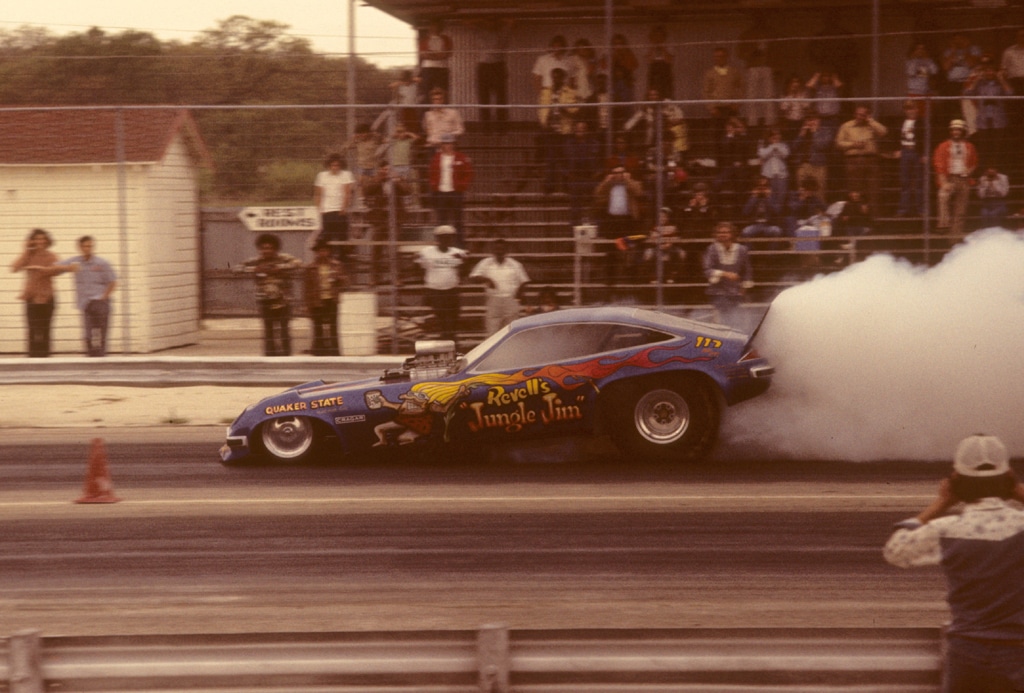 The dynamic duo of Jungle Pam and Jungle Jim came to an end in 1977, when Jim Liberman was killed in a car accident while driving his yellow 1972 Corvette in his hometown of West Chester, Pennsylvania. He was driving too fast going around a curve when he collided head-on with a transit bus wedging his car under the front of the smashed metal. It took first responders nearly an hour to get Jim out of the wreckage.
And to add insult to injury, the accident took place just two days before his 32nd birthday. The funny car world was utterly devastated to hear the news. Jim had a large dedicated fan base that loved him. And he loved his fans – everyone he interacted with had a story to tell. And of course, if you are one of those lucky drag fans who got an interaction, or saw him race live, get in the comments and tell us your memories.
Pam's Later Life
Jungle Pam's mother was the one who had to inform her about Jim's tragic accident. Obviously, she was devastated. 
Pam never worked with another driver in the funny car racing world out of respect for her Jim. And she left the world of drag racing. She does occasionally make appearances as Jungle Pam at conventions and still loves the world of funny car drag racing. But in her opinion, the drag scene isn't as interesting as it used to be, and without Jim and Pam. The funny car drag scene was never the same.
And Pam just wasn't the same after Jim's passing, always having a hard time with relationships. She was married on two different occasions to two different men from the world of funny car racing. Fred Fray was her first husband and he was a funny car owner, but the pair divorced and she later married Bill Hodgson who was a funny car mechanic. Today, Pam Hardy is 64 years old, and lives a relatively quiet life, of course, anything is quiet compared to a high-speed drag racing scene that turned a high school student into a Jungle Phenomenon. 
The world of funny car racing will forever remember Jungle Jim and Jungle Pam, and the antics that brought a lot of spectators to a rather untapped sport. So let's toast to the duo. Do you remember watching them back in the day? Do you have a different favorite driver from the funny car racing world of the 1970s? Let us know in the comments below! We wanna hear from you.
Is Jungle Jim based on a real person?
Jungle Jim, whose real name was Jim Lieberman, was a real person. He was an American funny car drag racer, nicknamed "Jungle Jim."
What's so special about Jungle Jim's?
Jungle Jim was a drag racer. He was special because he is often regarded by many as the "greatest showman the drag strip has ever experienced."
Is Pamela Hardy commonly called jungle Pam?
Pemala Hardy is commonly known as Jungle Pam. She met Jim when he spotted her walking while driving his yellow Corvette back in May 1972.