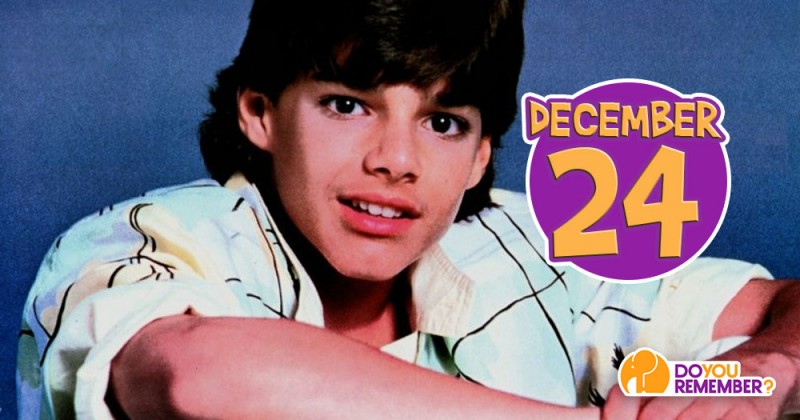 "Born Today"
Louis Tomlinson (24)

Austin Stowell (31)

Robert Schwartzman (33)

Michael Raymond-James (38)

Ryan Seacrest (41)

Stephenie Meyer (42)

Ricky Martin (45) Featured Above

Amaury Nolasco (45)

Mark Valley (51)

Mary Ramsey of 10,000 Maniacs (52)

Kate Spade (53)

Lee Daniels (56)

Anil Kapoor (59)

Lenny Kilmister (70)

Mary Higgins Clark (88)

Ava Gardner (RIP)

Lemmy Kilmmister (RIP)
"Died Today"
Peter Lawford (

Born

: September 7, 1923 /

Died

: December 24, 1984)

Jack Klugman (

Born

: April 27, 1922 /

Died

: December 24, 2012)

Charles Durning (

Born

: February 28, 1923 /

Died

: December 24, 2012)
"Movies"
"Music"
1965 – The Beatles had the No.1 album in the US for the third Christmas in a row. Rubber Soul was at the top of the LP chart, following Beatles For Sale in 1964 and With The Beatles in 1963.

1966 –  "(I Know) I'm Losing You" by the Temptations was the new #1 on the R&B chart
1972 –  David Bowie appeared at the Rainbow Theatre, London, England giving a special Christmas Eve concert.

1976 – The Eagles sixth album, Hotel California spent the first of eight non-consecutive weeks at the top of the Billboard chart.

1977 – The Bee Gees started a three week run at No.1 on the US singles chart with 'How Deep Is Your Love', the group's 4th US No.1.
1977 – The Sex Pistols played their last ever UK gig, (until 1996), before splitting, at Ivanhoes in Huddersfield. It was a charity performance before an audience of mainly children.

1983 –  Barry Manilow achieved his 13th #1 song on the Adult Contemporary chart out of 27 releases with "Read 'Em And Weep".

1988 – American glam metal band Poison started a three-week run at No.1 on the US singles chart with 'Every Rose Has Its Thorn.'
1988 – Nirvana started recording their first album 'Bleach' using a $600 loan from an old school friend.




1994 – Pearl Jam went to No.1 on the US album chart with 'Vitalogy'.
"TV/Radio"
1906 – Reginald A. Fessenden became the first person to broadcast a music program over radio, from Brant Rock,

MA

.

1928 – The first broadcast of "The Voice of Firestone" was heard.

1944 – The Andrews Sisters starred in the debut of "The Andrews Sisters' Eight-To-The-Bar-Ranch" on ABC Radio.
1948 – For the first time ever, a midnight Mass was broadcast on television. It was held at St. Patrick's Cathedral in New York City.

1951 – NBC-TV presented, "Amahl and the Night Visitors," the first opera written for television.
"Other Important Events…"
1818 – Franz Gruber of Oberndorf, Germany composed the music for "Silent Night" to words written by Josef Mohr.

1851 – A fire devastated the Library of Congress in Washington,

DC

, destroying about 35,000 volumes.

1948 – The first completely solar-heated house became occupied in Dover,

MA

. .

1965 – A meteorite landed on Leicestershire. It weighed about 100lbs.
1966 –

Luna 13

landed on the moon.

1967 – Joe Namath (New York Jets) became the first

NFL

quarterback to pass for 4,000 yards.