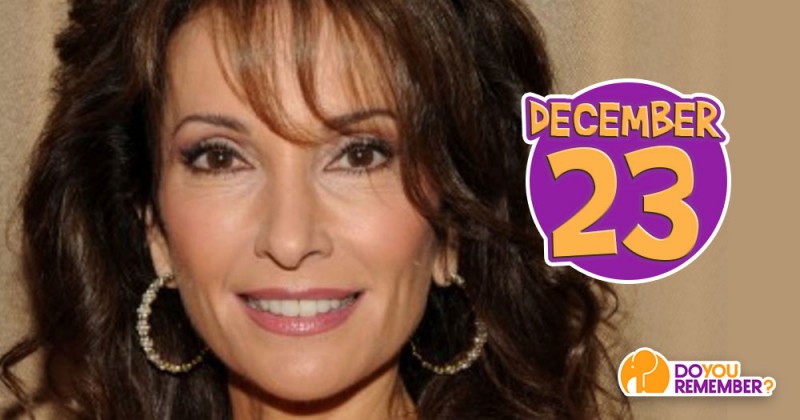 "Born Today"
Harry Judd (31)

Holly Madison (37)

Kat Perkins (37)

Jodie Marsh (38)

Estella Warren (38)

Esthero (38)

Sky Lopez (41)

Tara Palmer-Tomkinson (45)

Naked Cowboy (46)

Quincy Jones III (48)

Carla Bruni-Sarkozy (49)

Eddie Vedder (52)

Jess Harnell (53)

Joan Severance (58)

Susan Lucci (70) Featured Above

Harry Shearer (73)

Frederic Forrest (80)

Corey Haim (RIP)

Madame CJ Walker (RIP)
"Died Today"
Billy Barty (

Born

: October 25, 1924 /

Died

: December 23, 2000

)

Oscar Peterson (Born:

August 15, 1925 / Died: December 23, 2007

)

Victor Borge (

Born

: January 3, 1909 /

Died

: December 23, 2000

)
"Movies"
"Music"
1957 –  Sam Cooke once again was #1 on the R&B chart for a fifth week with "You Send Me".

1968 – The Doors released the single "Touch Me".
https://www.youtube.com/watch?v=mBKkYQaByew
1972 – Bette Midler charted for the first time with her debut single "Do You Want To Dance".
1978 – Billy Joel had become a superstar and 52nd Street was #1 for a sixth week on the Album chart.

1989 – Phil Collins started a four week run at No.1 on the US singles chart with 'Another Day In Paradise', his 7th US solo No.1 .
"TV/Radio"
1922 – The British Broadcasting Corporation began daily news broadcasts.

1938 – "Mrs. Wiggs of the Cabbage Patch" was heard for the final time on the radio.

1943 – "Hansel and Gretel," the opera, was televised on New York's WRBG. It was the first complete opera to be televised.

1951 – A

National Football League (NFL)

championship game was televised nationally for the first time. The Los Angeles Rams beat the Cleveland Browns 24-17. The DuMont Network had paid $75,000 for the rights to the game.

1964 – The Beach Boys made their first appearance on the popular television show Shindig!, performing "Little Saint Nick", "Dance, Dance, Dance", "Johnny B. Goode" and "Monster Mash".
1966 – ITV (Redifusion) broadcast Ready, Steady Go! for the last time, after the Musicians Union enforced a ban on miming. The special guests for the farewell show were Mick Jagger, The Who, Eric Burdon, The Spencer Davis Group, Donovan and Dave Dee, Dozy, Beaky, Mick and Tich.
"Other Important Events…"
1823 – The poem "A Visit from St. Nicholas" by Clement C. Moore (" 'Twas the night before Christmas…") was published.

1942 – Bob Hope agreed to entertain

U.S.

airmen in

Alaska

. It was the first of the traditional Christmas shows.

1996 – Motley Crue bassist Nikki Sixx married TV's 'Baywatch' star and former Playboy Playmate of the Month, Donna Deruico.