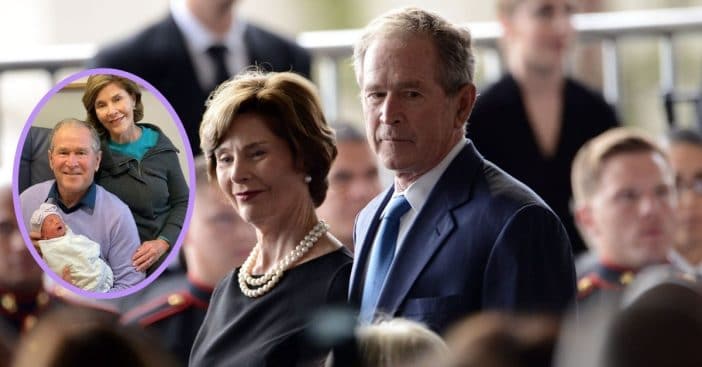 George W. Bush and Laura Bush recently welcomed the newest additions to their family. Together, they are the parents of Jenna Bush Hager and Barbara Bush, and grandchildren to three – now four – grandchildren. The presidential couple welcomed baby Cora Georgia to the world!
Initially, the Bush couple was grandparents to three grandchildren through daughter Jenna: Hal, Mila, and Poppy. Cora is the first child of Barbara Bush and screenwriter Craig Louis Coyne, who she married back in 2018 during a private autumn ceremony. George W. Bush, 75, and wife Laura Bush, 74, got to meet Cora in person a few days after her birth.
Laura and George W. Bush welcome Cora Georgia
'We are proud and grateful': Former President George W. Bush and his wife share snap of newborn granddaughter https://t.co/GGI2b0lgp7

— Daily Mail US (@DailyMail) October 3, 2021
On Saturday, 43rd president of the United States George W. Bush shared a post on Instagram celebrating his and Laura's first meeting with their new, fourth granddaughter, Cora Georgia. "With full hearts, @laurawbush and I are delighted to announce the birth of our new granddaughter," the post reads.
RELATED: The Advice Laura Bush Gave Jenna Bush Hager Over 'Guilt' Of Pregnancy
The text continues, "Barbara gave birth to Cora Georgia Coyne on September 27, 2021, in Maine – not far from our family home where Barbara and Craig were married. Cora is healthy and adorable, and we are proud and grateful."
Many merry family festivities
Congratulations are in order for new mom Barbara Bush! Proud Sister and New Auntie @JennaBushHager shared this sweet photo of sweet Cora Georgia. A beautiful new addition to an adoring family. pic.twitter.com/FrEG2atnXa

— Barbara Bush Houston Literacy Foundation (@BushHoustonLit) September 29, 2021
The whole family was celebrating this momentous occasion this weekend. Cora Georgia Coyne is the first child of Barbara Bush, 39, former first child during the Bush administration. Barbara received care at Portland, Maine's Barbara Bush Children's Hospital after her water broke six weeks early.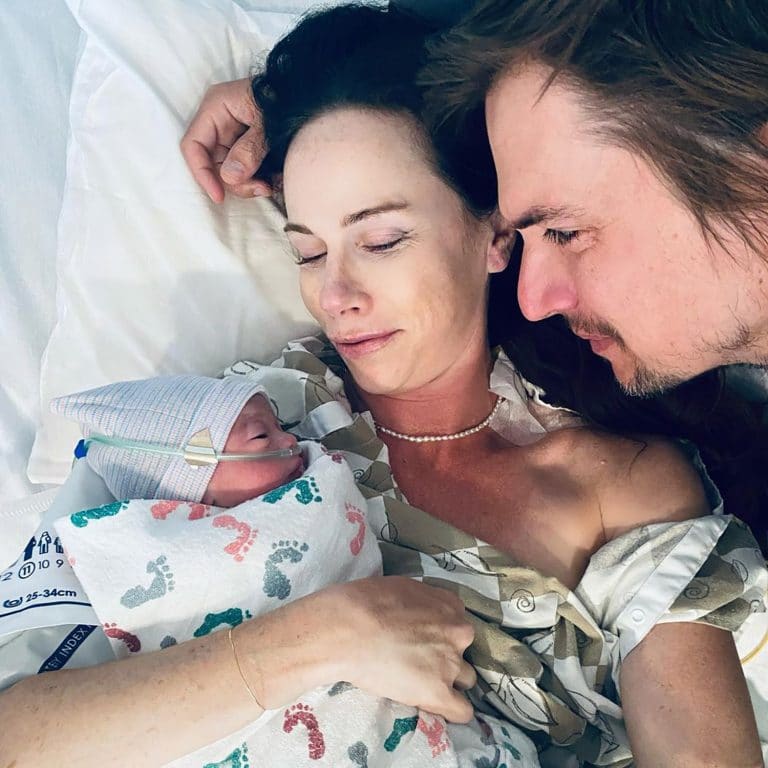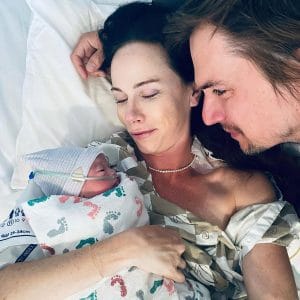 "She gave birth at the hospital named after my grandmother, named after her namesake," Jenna noted. She and Barbara are twins, and Cora's birth makes Jenna a new aunt. Cora's middle name Georgia is a variant on George, a deliberate tribute to Barbara's father, who Jenna says provided a calm and reassuring presence when Barbara entered labor early. In response to the news, the former president responded, "God is good." Jenna closely followed her sister's health, even when pregnancy was a goal she would strive for, while Jenna herself felt guilt when she fell pregnant. She noted "infertility runs in my family," but echoed the advice her own mother had told her: "Every woman gets her baby in her time."
Congratulations to the Bush family on the beautiful baby!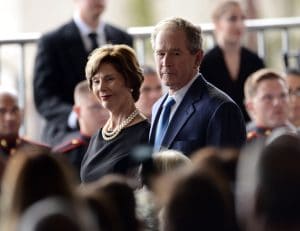 RELATED: Jenna Bush Hager Read Her Grandparents Old Love Letter At Her Sister Barbara Bush's Wedding