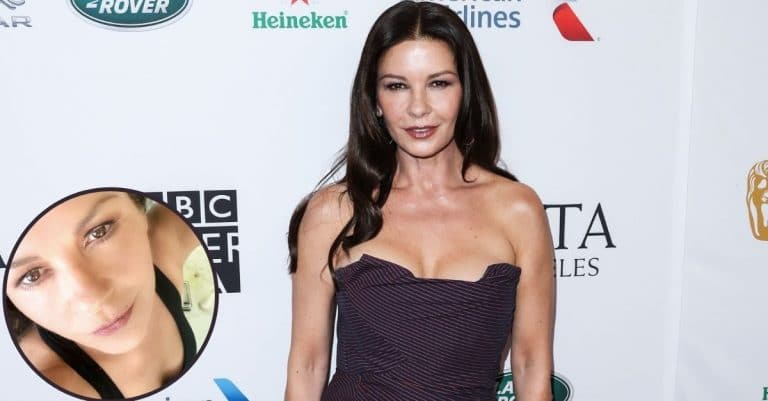 Catherine Zeta-Jones looks gorgeous and youthful in Saturday selfie she recently posted to Instagram. "Saturday Selfie! You asked for it and here it is😂this was the best of the bunch folks. The others were full on mug shots😂seriously. Rancid to be precise. Note, added a bit of cleavage as a last resort. Happy Saturday friends." She writes in the caption.
Fans loved the close-up shot, leaving tons of fire emojis and positive comments. Even Michael Douglas' son, Cameron, whose mom is Diandra Luker, commented some fire emojis on his stepmom's photo.
Catherine Zeta-Jones looks youthful as ever in new selfie
View this post on Instagram
This selfie comes shortly after some big, exciting news for the family as daughter 18-year-old Carys just went off to college! Zeta-Jones even shared a throwback video of Carys when she was a youngster, reminiscing about old times as Carys was actively packing and preparing to leave for school.
RELATED: Catherine Zeta-Jones Shares Throwback Video Of Daughter Carys As She Packs For College
"My daughter Carys prepares for college!!! Very cute alert!!The road to higher education begins on the bathroom floor, with limited teeth, (thus the lisp) and a passion for books. Carys is packing her bags and I am looking at old videos😢don't tell her I posted this😂😂," she captions the adorable throwback video.
View this post on Instagram
Family is everything to Zeta-Jones. Back in July, she appeared on TODAY to speak to Hoda and Maria Shriver about having her kids home with her during the COVID-19 quarantine. "Michael and I were kind of early empty-nesters because our son Dylan is off at college and our daughter, Carys, goes to school in Europe," she said. "So all of a sudden they descended on back into our home and it was just wonderful. It was just breakfast, lunch, and dinner all together."
Now, back to reality!
Catherine Zeta-Jones talks to Hoda and Maria Shriver about her kids returning home for quarantine, her new makeup line and the shoes she created with Butterfly Twists. pic.twitter.com/rAM6FhCgmW

— TODAY with Hoda & Jenna (@HodaAndJenna) July 22, 2020