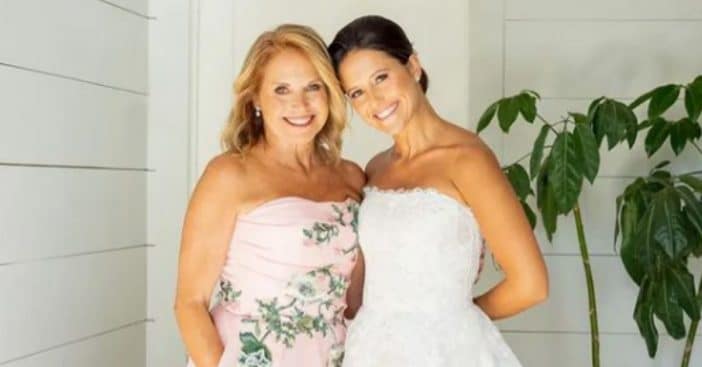 Katie Couric shared the speech she gave at her daughter Ellie's wedding this month. In the emotional speech, she talked about how proud her late husband Jay Monahan would be of the newlywed couple. Ellie married her longtime boyfriend Mark Dobrosky on July 4th.
Katie said, "For the past 11 years, the center of Ellie's universe has been Mark. Now, I have to be honest. Throughout her 20s, I urged — OK begged Ellie to date around, play the field. God knows I did in my 20s. But Ellie wasn't having it. She knew. Ellie — this warm, kind, sensitive, sentimental, perceptive, empathetic, determined, spirited young woman just knew that she had already found the yin to her yang, the peanut butter to her jelly, the Jack to her Jill. Mark — she knew. And now, this we all know: You are a treasure."
Katie Couric shared the speech she read at her daughter's wedding
View this post on Instagram
She also included a conversation she had with her husband before he passed away in 1998 after a battle with cancer. She read, "He looked at me and said, 'You know, nothing really matters except your friends and family.' When everything else was stripped away, Jay understood what was essential to a meaningful life. Ellie, he would be beaming to witness the woman you've become … and somehow, some way, I hope he is."
RELATED: Katie Couric Shares An Emotional Update About Her Friend's Cancer Journey
View this post on Instagram
Katie shared the entire speech on her website if you want to read it in its entirety. Ellie also shared some of her favorite moments of her wedding day with PEOPLE. She said her gown and hearing one of her dad's favorite songs were at the top of the list.
View this post on Instagram
Ellie said, "[It was] so significant to our family because my late father Jay Monahan was a huge fan of their music when it was featured in Ken Burns' PBS documentary series on the Civil War. I walked down the aisle to 'Ashokan Farewell,' which was incredibly emotional for me."
Congrats to Ellie and Mark!