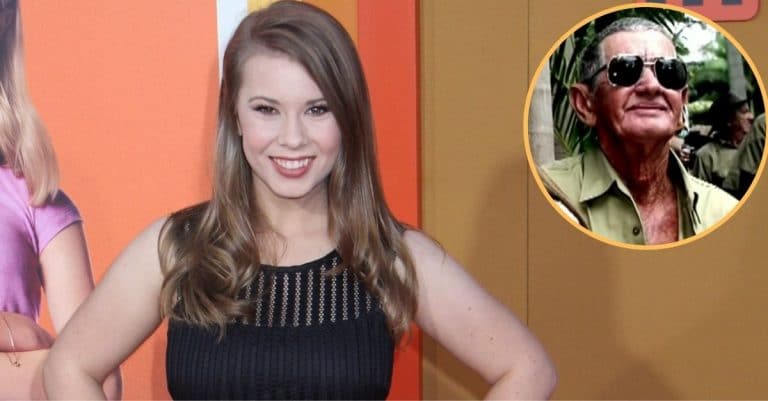 Bindi Irwin recently opened up about the rift between her and her grandfather Bob in a Father's Day post. Bindi has a lot to celebrate recently with a new baby and her husband's first Father's Day. She made an appreciation post on Father's Day for three specific people – "My dad, my husband and my father-in-law," she says in her post.
"My dad taught me the importance of strength when standing up for what I believe in and to have empathy for all living beings. My husband amazes me every day with his kind and steadfast heart; his love for our daughter is infinite. My father-in-law works tirelessly for his family and is always there with a word of encouragement. These extraordinary men inspire me and I love them so very much."
Bindi Irwin addresses rift between her family and grandfather Bob
View this post on Instagram
However, there was also some heartbreak mentioned in the post, specifically about the rift between the family and Bindi's grandfather. It seemed that her paternal grandfather Bob, the founder of the Australia Zoo and father of Steve, was not mentioned in the Father's Day celebration and a fan inquired about it in the comments.
RELATED: Bindi Irwin Shares Adorable 'Twinning' Photos Of Daughter Grace & Herself As A Baby
In a now-deleted response, Bindi wrote, "I really wish that my entire family could spend time with Grace. Unfortunately my grandfather Bob has shown no interest in spending time with me or my family… It breaks my heart."
View this post on Instagram
She continued by saying that her family financially supports her grandfather  by "sending him funds every week" and building him a home "to ensure his well-being." However, he still has yet to meet their newborn daughter, Grace. "I want Bob's happiness in life," says Bindi. "I have struggled with this relationship my entire life and it brings me enormous pain. I have to choose to care for my own mental health now."
View this post on Instagram
Bindi further admitted that becoming a parent without her father's presence has been challenging. "It's hard knowing that she'll [Grace] never get to actually meet [my dad], and it's devastating because I'll never get to watch that connection," she opened up on a clip from her Discovery+ series. "But I cannot wait to be able to tell beautiful Grace all of these stories about Dad, to be able to share with her what an amazing father he was."
"It is really hard, it's hard that he's not here because out of everyone in the world he would've loved her the most. He would've loved her so much, but I think, in a way, he is still with us. His heart and soul lives on in all of us, so he's never really gone."
View this post on Instagram
Despite any grief and sadness, Bindi makes the effort to keep her father's legacy going strong. After the family celebrated Grace's 1-month birthday back in April, Bindi took to Instagram to share that her daughter finally got her first pair of khakis. "We're so proud of our Wildlife Warrior princess. I know our darling girl is going to grow up caring for Mother Earth and all her animals."