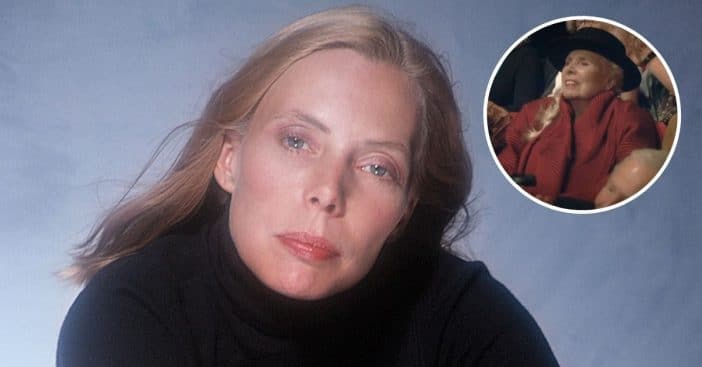 77-year-old Joni Mitchell is best known for her music including songs "Big Yellow Taxi" and "Help Me." Unfortunately, she suffered from a brain aneurysm in 2015 and now stays largely out of the spotlight. She hasn't been interviewed in years, until now. Clive Davis was able to sit down and talk with her for his virtual Grammy gala this year.
Clive asked her how it feels to be cited as an influence. She admitted that her way of writing often scared other singer-songwriters at first. However, she said, "But over time, I think it did make an influence. I think it encouraged people to write more from their own experience. I mean, literature is very personal. People write from experience and that's what makes it rich. But people used to say to me, 'Nobody's ever going to cover your songs. They're too personal.' And yet that's not true. They're getting a lot of covers. So that's really encouraging to me, because I thought, 'I don't see why these men are so upset about it… It's just humanness that I'm trying to describe.'"
Joni Mitchell was recently interviewed for the first time in years
Sadly, Joni doesn't perform anymore so fans will only be able to see others bring her songs to life during live performances. During the virtual event, Brandi Carlile performed a solo piano rendition of "A Case for You." While Joni wasn't able to perform, she was able to open up about what some of her songs mean and what inspired her to write them. She talked about "Both Sides Now."
RELATED: Over 100,000 Masters Recordings From Guns N' Roses, Eagles, And More Destroyed In Fire
When asked about writing the song, Joni said, "I was up in a plane. I was reading a book (by Saul Bellow) called 'Henderson the Rain King,' and in the book, he was up on a plane flying to Africa, and he mused that he'd looked up at clouds, but he'd never looked down on them before. So that was where the germ of the idea for the song came from." Joni also shared the story of how she started writing original songs.
She shared, "I worked as a waitress in a coffee house, and there were folksingers coming and going. One night, one of them called in sick, or didn't show, anyway. So they said, 'Look, we've got a blank evening. Joni. you're playing the ukulele, will you go on?' So I went on, but I was scared to death." She also began performing at a place called the Depression while in art school. Some of the other singers told her she couldn't sing certain songs, so she ended up writing her own.
Here's another interview with Joni Mitchell recently: