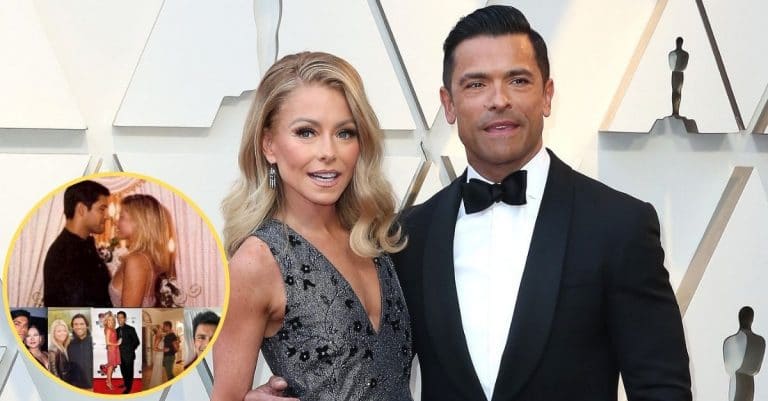 Kelly Ripa and Mark Consuelos are celebrating their 25th wedding anniversary and to celebrate, they've posted some never-before-seen throwback photos. "Happy 25th Anniversary to the love of my life @instasuelos in the blink of an eye. Because when you know, you know. Thank you for all of the dreams you made reality," Ripa captions the photo set of throwback pictures.
The two first met playing on-screen love interests on the show All My Children and got married in 1996. Consuelos commented back on Ripa's post, writing an adorable, "Thank you for saying yes."
Happy 25th Anniversary to Kelly Ripa and Mark Consuelos!
View this post on Instagram
Consuelos also paid tribute to his wife of 25 years, posting a video montage to his Instagram of their finest moments throughout the years. "@kellyripa …"I'll be loving you until the rainbow burns the stars out in the sky…always". Happy 25th," he captions the video. Ripa commented on his post with an adorable and heartwarming comment: "Sobbing. I love you so very much. Some of these pics are never before seen. As in, I've never seen them before."
RELATED: Kelly Ripa And Mark Consuelos Open Up About 'Old-Fashioned' Marriage Roles
View this post on Instagram
Ripa recently shared with her following that she got "the best gift ever" from her husband for their anniversary and posted photos of the romantic gift to her Instagram story. The gift was a handmade photo album with photos from throughout her and Consuelos' relationship. This included photos from the births of the couple's three children, Michael, Lola, and Joaquin.
Consuelos apparently wrote a sweet note at the beginning of the book as well: "If I were to write a book of our story, these are the 25 places that could have their own chapter. All of these places mean so much to me — and hopefully to you too."
View this post on Instagram
The couple recently spoke on an episode of the "Double Date" podcast, recalling a defining moment in their relationship. "When we first got married, I think Mark felt like he rushed into it and maybe he made a mistake and maybe he was regretting it, and he took my wedding ring and threw it out the window," Ripa admits.
View this post on Instagram
Despite this, they were able to work through it. "I looked at him, and I said, 'I get it. I'm young and married and I'm scared, too. I get it. This is forever. I'm with you,'" Ripa says. "Now we have to go find this ring.'" And the rest is truly history!